Dr. Joshua Cobb1,2,3
ID# 428, (1809 - 1879)
Narrative: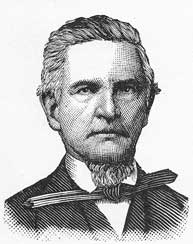 Dr. Joshua Cobb
from Picturesque Clarksville20
Dr. Joshua
Cobb
was born on 19 Apr 1809 in Eddyville, Livingston Co., Kentucky

, which formally became part of Caldwell county two weeks later.
7,8,9
Joshua is probably one of the three males under age 10 listed in the household of his father,
Gideon Dyer

Cobb
, in the 1810 Federal Census of Eddyville, Caldwell Co., Kentucky

.
21,22
He was probably one of the two males age 10 to 16 listed in the household of his father,
Gideon Dyer

Cobb
, in the 1820 Federal Census of Eddyville, Caldwell Co., Kentucky

.
23
Sent Off to School
--- Text Stolen from ReigelRidge.com !! ---
     Joshua attended the Washington Literary, Scientific and Military Gymnasium in Georgetown, District of Columbia

, in 1827-28, studying arithmetic, algebra, geography, English, and French "with success and credit to himself," according to the Superintendent, his uncle,
James Dyer

Cobb
.
24
His uncle taught in the science department and the English branches, and a Mr. Chauncy W. Fitch taught Greek, Latin, and French. Others give lectures in natural history, "chymistry" and mineralogy. Students were known as cadets, and required to dress in "uniforms of a military cut and fashion." The hours of instruction were from sunrise to sunset, with study and recitations for eight hours, and the remainder for military and gymnastic exercises. Parents were promised that "cadets are never to be out of the knowledge of the superintendent." Cadets from a distance, presumably including Joshua, could board with the superintendent's family, where they would pass their evenings with him "in a room for the purpose," and lodge in rooms adjoining his.
25,26
West Point and Medical School
--- Text Stolen from ReigelRidge.com !! ---
     Joshua applied to the United States Military Academy at West Point in 1828, sponsored by close family friend, Congressman
Chittenden

Lyon
. The Congressman said he was "of strict moral character and possesses in a high degree the necessary qualifications" for admission. At that time, applicants had to be between 14 and 21 years of age, and "well versed in reading, writing, and arithmetic." Candidates were selected by the Secretary of War, customarily on the advice of Congressmen. He was admitted 1 Jul 1828.
27,28,29
He remained a cadet for three years, but, contrary to several published reports, did not graduate and left the Academy at the end of the 1830-31 term.
29,30,31,32,33
     Joshua reportedly studied medicine at Georgetown, District of Columbia

, and at Transylvania University at Lexington, Kentucky after leaving West Point. However, the only medical school then in the District, the Medical Department of Columbia College (later George Washington University), was not in Georgetown, then a separate city, but in Washington. There is no record of his attendance there.
34,35,36,37
Reports that he studied at Transylvania College, Lexington, Kentucky

, in 1834-35, have been confirmed. Transylvania, now a small liberal arts college, was founded in 1780, and the Medical Department in 1799. However, the reports that he graduated "with honors" have not been; no record of his graduation has yet been found.
38,39,40,41
     He was probably one of the seven males age 20 to 30 listed in the household of his father,
Gideon Dyer

Cobb
, in the 1830 Federal Census of Eddyville, Caldwell Co., Kentucky

.
42
     Joshua married first
Julia Ann

Mims
, daughter of
Linah

Mims
and
Rebeccah

Davis
, on 23 Jun 1835 in Eddyville, Caldwell Co., Kentucky

.
10,11,12
     Joshua bought lot no. 29, on Second St.. In Eddyville from his sister's husband,
James G.

Clark
, on 27 Nov 1836, for $200.
43
Joining the Iron Works in Tennessee
--- Text Stolen from ReigelRidge.com !! ---
     Joshua and
Julia
moved to Stewart Co., Tennessee

, about 1837 where he became resident physician at Cumberland Iron Works Company.
44,45,46
On 23 Jan 1837 Joshua bought two half-acre lots in Eddyville from
Hannah
and
John

Hallick
, his sister and her husband, for $147.
47
The firm operated three furnaces, at Bear Springs, Dover, and Bellwood, where it employed slave labor, and he was contracted provide medical care to the slaves. He also soon built a practice in the surrounding county.
48,49,50,51
     He appeared on the 1840 Federal Census of Stewart Co., Tennessee

, with a household consisting of 1 white male under 5 (
Robert
), 1 white male between 15 and 20 (perhaps a nephew), 1 white male between 30 and 40 (Joshua), 2 white females under 5 (
Irene
, and perhaps
Ione
?), 1 white female between 20 and 30 (
Julia
), and a male and a female slave, both between 10 and 24. One person was recorded as employed in the "learned professions and engineering," no doubt Dr. Joshua.
52
     His wife died on 11 Sep 1841 in Cumberland Iron Works, Stewart Co., Tennessee

.
53,54
     On 18 Apr 1842 Joshua took a mortgage on a female Negro slave, Hanah, about 40 years of age, and her future increases from
George M.

Marshall
, husband of his sister
Persis
, to secure a note for $200.
55
     Joshua married second
Marina Turner

Bryan
, daughter of
Col. Henry Hunter

Bryan
, on 18 Jan 1843 in Clarksville, Montgomery Co., Tennessee

.
13,14,15
     After the death of his first wife he gave up his medical practice and turned to the iron business. In partnership with Thomas W. Barksdale, Samuel Cooke, and William Bradley, he purchased a considerable number of tracts rich in iron ore and organized the Rough and Ready Furnace Company in 1845. They operated the Company successfully for a year, and then sold it for $65,000 to Barksdale, Johnson & Co. Joshua, D. N. Kennedy, and William Phillips then bought the Lagrange Furnace, operating under the name of Cobb, Phillips & Co. It became a very lucrative investment, and they built the Eclipse Furnace and bought the Clark Furnace and one-third of the Girard Furnace. But the property depreciated greatly during the Civil War. The business, previously valued at $250,000, was sold for $75,000, about the only iron company to salvage any value after the war.
56,57,58
His Support of Education
--- Text Stolen from ReigelRidge.com !! ---
     When the Clarksville Female Academy was opened in 1846, Joshua was among the major supporters, subscribing to 19 shares at $25 each. The school was occupied by both Confederate and Union troops during the war, but was repaired and reopened afterwards. He served on the Board of Trust for many years, and was it's President at the time of his death. When the state legislature granted authority in 1856 to incorporate Stewart College, he was one of the applicants, along with other prominent men in the community.
59,60,61,62
     Joshua and
Marina
appeared on the 1850 Federal Census of Stewart Co., Tennessee

, enumerated 5 Dec 1850, reporting real estate of $5,000. He also reported owning 14 slaves, ranging in age from one to 30, of which four were males. Their children
Edwin
,
Marina
,
Mary
,
Virginia
,
Sallie
and
Robert
were listed as living with them His children
Irene
were listed as living with him, as was his daughter by his prior marriage,
Irene
, and her sons by her prior marriage, George and William T.
Dortch
.
63,64
Moving to Clarksville
--- Text Stolen from ReigelRidge.com !! ---
     Joshua and
Marina Turner

Bryan
moved their family moved to Clarksville, in 1851, where he sold iron, bought iron-working supplies, and settled his accounts. He apparently also resumed his medical practice, as he is listed as a physician, at the southeast corner of 5th St. and Commerce St., in the 1859-60 Clarksville city directory. He retired from active business about 1866.
65,66,67
He bought what became the Cobb homestead from Judge William Turner, who had moved to Nashville, Tennessee. The homestead consisted of four acres of forested hills and a small grove between Madison and Commerce and Fifth and Sixth Streets, on which was later located the homes of the Merritt, Pettus, and Bowling families in addition to the Cobb home. The home was built by Judge Turner and was not quite finished when Joshua bought it for $5,500.
68
     After a sufficient amount of stock in the Memphis, Clarksville, and Louisville Railroad had been sold to justify organizing the company, the commissioners met on 25 May 1853 in Clarksville and elected a board of directors. Joshua was elected president.
69
On 26 Dec 1859 Joshua gave his recently married daughter
Irene
the lot in Eddyville that he had purchased from his brother-in-law,
James G.

Clark
, in 1836, before he had moved to Steward Co., Tennessee.
70
     Joshua and
Marina
appeared on the 1860 Federal Census of Clarksville, Montgomery Co., Tennessee

, enumerated 7 Sep 1860, reporting real estate of $30,500 and person estate of $15,000. He also reported owning nine slaves ranging in age from 14 to 54, six males and three females, housed in two slave houses. Their children
Edwin
,
Mary
,
Marina
,
Virginia
,
Sallie
and
Gideon
were listed as living with them.
71,72
     The Confederate Army established a hospital at the Clarksville Female Academy early in the war. When Ft. Donelson was surrendered on 16 Feb 1862 the Clarksville was quickly evacuated, leaving about 200 sick and wounded patients at the hospital. With no army medical personnel present to care for them, a citizen committee was organized, and Dr. Cobb was named chairman of that committee and surgeon in chief, to exercise general superintendence over the sanitary condition of the hospital, and to select or appoint aids to superintend the various departments. When Federal troops took possession of Clarksville, he was re-appointed surgeon in charge and general superintendent by Col. Crafts J. Wright, commandant of the post. The committee operated the hospital from 20 Feb to 20 Jun 1862, dependant largely on public contributions, and in the end sold supplies to pay its expenses.
73
     Joshua and
Marina
appeared on the 1870 Federal Census of Clarksville, Montgomery Co., Tennessee

, enumerated 28 Jun 1870, reporting that she owned $15,000 in real estate and $500 in personal property. Their daughter
Sallie West
were listed as living with them, as were the widower of their daughter Mary Aurelle,
John Baker

Tapscott
, and his daughter
Mary
. Also listed was her son Dr. George C.
Dortch
, his wife Elizabeth Jane
Worden
, and their daughters Susan, Mina and Georgia.
74
First Mayor After the War
--- Text Stolen from ReigelRidge.com !! ---
     In 1865 Joshua Cobb became Clarksville's first mayor since the war began, serving until 1866, when he was succeeded by John Bailey for a year. Joshua was elected again in 1867 and served until 1869. According to one observer, "life was beginning to make sense again in the town."
75,76,77
     Joshua loaned $2,500 to his brother
Gideon
, apparently as the latter's business was failing in the late 1860s. It appears that the money was lost when
Gideon
filed for bankruptcy in Oct 1871.
78
     The County Court at that time was responsible for functions generally assigned to boards of commissioners or county supervisors today. An elected judge presided, and the magistrates decided issues by vote. Joshua was elected as a magistrate in 1869, and served until his death. He became regarded as the foremost member of the County Court, serving on all important committees, and always filled the chair in the absence of the judge. In an obituary he was described as "a vigilant and careful director of the county business, and the sternest opponent of anything adverse in his judgment to the public interest." Another said "the sobriquet of 'the watch-dog of the public treasury' was frequently applied to him."
79,80,81
A Dramatic Death
--- Text Stolen from ReigelRidge.com !! ---
     The quarterly meeting in which Joshua died was attended by 34 magistrates, an unusually large number. Matters before the Court that day included a proposal to exempt ministers from the poll tax, which Joshua "spoke earnestly in favor of." He read the report on appropriations, noting that the matter of perquisites received by the county judge had become the subject of legal proceedings, and thus was not addressed by the committee. After the proposed tax rates, excepting the courthouse tax, were approved, Judge Tyler called for discussion on funding the new Court House. He proposed to use the proceeds of a compromise he had reached in a suit by the County against the L. & N.R.R. to delay the need for a tax for several years. Dr. Cobb objected, contending earnestly that the proceeds were already appropriated by law for payment of the County's railroad debt, and could not be diverted. Further, he said the compromise damaged the interests of the County, and Judge Tyler was not authorized to agree to it. The Judge responded "with much energy." Dr. Cobb moved for a committee of three "to enquire into the circumstances of the compromise and the authority of the Judge to make it." While that motion was being discussed Joshua collapsed and died within a few minutes, stopping the proceedings.
82,83
He died on 7 Apr 1879 in the temporary County Court House (Baptist Church), Clarksville, Montgomery Co., Tennessee

, at age 69, in the midst of a heated discussion before the County Court.
16,17,18
     The following article appeared
Courier-Journal
8 Apr 1879 :
At about half-past ten o'clock this morning the whole community was shocked to learn that Dr. Joshua Cobb had died suddenly of heart disease while in discharge of his duties as a member of the County Court at the Court House in this city. The report spread rapidly and great excitement prevailed. The Count Court was engaged in its regular April term in transacting its business. The report of Judge Tyler upon the compromise of a recent lawsuit of the county against the Louisville & Nashville railroad was up for discussion. Dr. Cobb made a speech in relation to the subject, during which he showed great earnestness and appeared, as he always did when deeply interested in a discussion, very much excited. At the close of his remarks, while another member was addressing the Court, he staggered, uttered a peculiar sound and fell forward into the arms of those who stood near him. Drs. Daniel F. Wright and C. W. Bailey were called to assistance. Proper restoratives were applied, but all efforts were fruitless, as his spirit had flown from earth. * * * For some time past his health has been gradually failing, until death the fatal blow while he was manfully for what he deemed the best interest of his county, leaving to be inscribed upon his monument the noble tribute, 'Died at his post." * * * Out of respect to his memory the County Court has adjourned until Monday, April 21, and all places of business will be closed at the time of his funeral.
84
He was buried in City Cemetery, later known as Riverview Cemetery, Clarksville, Montgomery Co., Tennessee

, with his second wife, Marina, his daughter Mary Aurelle Cobb Tapscott, and his sons Gideon Clark Cobb and Edwin B. Cobb.
19
     His funeral at the Methodist Church was "largely attended," as "large an audience as we remember ever to have seen there", with services conducted by Rev. R. K. Brown and W. Mooney.
85,86
     Joshua died intestate (without leaving a will) and letters of administration for his estate were issued on 30 Apr 1879 in Montgomery County Court to
Marina Turner

Bryan
, his widow. She made a bond for $1,000, with her sons by her first marriage, William and Dr. George C.
Dortch
, as sureties. But no further record of the probate has been found.
87,88