Gideon Dyer Cobb1,2,3
ID# 1043, (1773 - 1834)
Spouse: Modena Chittenden

Clark

(4 Oct 1779 - 7 Oct 1837)
     Children:
Gideon and Modena reportedly had several other children who died in infancy, whose names are not known. If so, no tombstones for them have been found in the Cobb plot in the Eddyville Cemetery.
95
Narrative:
     Gideon Dyer
Cobb
was born on 11 Sep 1773 at Stillwater, Albany Co., New York

.
5,6
He moved to Canterbury, Connecticut

, with his parents
Elkanah

Cobb
, and
Mary

Willard
between May 1776 and Jul 1778.
10,11
He moved to Pawlet, Vermont

, with his parents by 1780.
12,13,14
He was probably one of the four males over age 16 listed in the household of his father,
Elkanah

Cobb
, in the 1790 Federal Census of Pawlet, Rutland Co., Vermont

.
15
He was named a freeman of Wells on 3 Dec 1794.
16
He married
Modena Chittenden

Clark
, daughter of
Gen. Isaac

Clark
and
Hannah

Chittenden
, about 1796 in or near Castleton, Vermont

.
7,8
     According to family lore, Modena's family was opposed to her marriage to Gideon because she was so young (about 17), and forbade him from coming to the house. But one day he was out riding and met her taking a walk. He took her up on his horse behind him and they rode into the next county and were married. If so, no record has been found of their marriage in Castleton; no records survive from that period in Fair Haven.
17
Administrator of His Father's Estate
--- Text Stolen from ReigelRidge.com !! ---
     Gideon was an administrator for the estate of his father along with his father's brother
Ebenezer
. They pursued the case
Elkanah
had filed for damages to his mill, and won a judgment for $200 against Roger Stevens, Gilbert Toper, Nath
l
Lewis, and John Shumway Jun
r
, which the defendants appealed to the Supreme Court. In the meantime the administrators filed a second suit for damages to the dam, in which they won damages of $20 plus $146 in costs. At that point the defendants filed a motion claiming that the administrators had no standing to bring the suit. With both suits pending but undecided in the Supreme Court, the administrators filed a petition with the state Assembly on 20 Sep 1798, asking it to direct the Court to hear and determine the cases as though they had been prosecuted by Elkanah before his death. On 22 Oct 1798 the petition was read to the Assembly, and the petitioners granted leave to withdraw it, with no explanation provided by the record. The outcome of the Supreme Court cases has not been found.
18,19
     On 5 Aug 1799 Gideon, as one of the administrators of his father's estate, requested and received authority to sell all his father's real estate in order to pay the estate's debts.
20
The Trek to the Western Frontier
--- Text Stolen from ReigelRidge.com !! ---
     Gideon and
Modena
and their young son
Caleb
were part of a group of over seventy people who moved from Vermont to Kentucky under the leadership of
Matthew

Lyon
. They were part of a small group that made the trek in late 1799, followed by a larger group who arrived in Jun 1801.
21,22,23
According to family lore, Modena was a favorite of her aunt,
Beulah

Lyon
, Lyon's second wife, who she visited many times at the Lyon's home in Fair Haven. Supposedly, that is where that Modena met Gideon. When the Lyons decided to migrate to Kentucky, they prevailed upon the young couple to join the party.
24
The group traveled in five wagons across the Allegheny Mountains to New Geneva, on the Monongahela River, over 50 miles above Pittsburgh, arriving in mid-Nov 1799. The water was too low to float down the river, so they spent the winter preparing their boats. New Geneva is not known to have been a common embarkation point, so it seems likely that the location was chosen because of Lyon's association with Albert Gallatin, minority leader of the House when Lyon was serving, and a resident there. Lyon left the party while preparations were underway, returning to his Congressional duties.
25,26,27
     Lyon left instructions that they were to follow the Ohio River to the mouth of the Cumberland River, then "go up that river until they were suited with regard to the Situation of the country, & the price of Land & there set down." He gave "rather a preference" to Kentucky over Tennessee because he believed land was cheaper there, but gave "them latitude to go up as far as they chuse." The party loaded their flatboats with their goods, including men's and women's saddles, bridles, shoe upper leathers, boots, tin ware, two stills, black smith tools, farming tools, iron, millstones, and grind stones, and set off. They settled at Eddyville, Kentucky

, probably arriving in the spring of 1800.
28,29
For details, please see
The Trek from Vermont to the Kentucky Wilderness
. According to the 1800 census, Eddyville had a population of 69 persons, including 34 free white males, 23 free white females, and 12 slaves. This presumably including the party from Vermont since the official enumeration day was 4 Aug, though we cannot be sure since no copies of the individual schedules survive.
30,31
Public Service
--- Text Stolen from ReigelRidge.com !! ---
     Gideon seems to have taken an active part in his adopted community from the beginning. He was one of the trustees named for the town of Eddyville in the Livingston Co. Court order that established the town 26 Nov 1800. He was named as a security for the bond of the administrator of an estate in the same court session. On 5 May 1801 he was appointed one of the appraisers for an estate, and also one of two men appointed to select the location for a new ware house. He was appointed security for another estate administrator in Jul 1801. On 6 Jan 1802 he and three others were appointed to mark out a new road from Eddyville to Paitehards Ferry.
32
     His public service continued for many years. In Sep 1809 he and John Bradley advertised for proposals for the brick work for a brick court house in Eddyville for the new county of Caldwell. At the Nov 1809 term of the Caldwell Co. Court they along with
Samuel C.

Clark
and
Elijah George

Galusha

Jr.
posted a bond to build the new court house. In Jul 1818 he was one of five men requested by the county court to view and report on the condition of the road from Eddyville toward Princeton. In the Oct term he was appointed one of four appraisers for the estate of one James Hill. In the Apr1919 term he appointed surveyor of the road from Eddyville to Smithville, commencing at Eddyville to the branch near Dooms old place.
33,34
(For more examples, see the extracted
County Court Orders
.)
Establishing the First Tavern in Eddyville
--- Text Stolen from ReigelRidge.com !! ---
     Gideon did not waste any time establishing himself in business in the new location either. He opened one of the earliest, if not the first, tavern in Eddyville, obtaining his permit 22 Jul 1800. By one account, it was build of "logs of his own hewing... the only tavern on the then lonesome lower bends of the Cumberland River."
35,36
His monoply did not last long, as Enoch Prince obtained a license for a tavern at his home in Eddyville 8 Dec 1801.
37
Tavern rates were set by the County Court. In 1800 those rates were: whiskey or brandy 12½¢ per half pint; rum, wine and French brandy, 25¢; breakfast or supper 19¢; dinner 25¢; lodging 6¼¢ per night; corn or oats 12½¢ per gallon; horse to hay or fodder 12½¢; and pasturage 8½¢ per night.
38
Apparently the tavern could sometimes be a wild place. One traveler recorded that on the night of 22 Jan 1805 he "took a frolick at Mr. Cobb's tavern and jumpt out an upper window to get Clear of the party."
39
     It appears that Gideon also operated a ferry for a time. On 1 Mar 1802 he obtained a license to operate a ferry at his home on the Cumberland River, and there are references to proposed roads from Cobb's ferry in 1803 and 1804.
40
     Gideon's first home, and tavern, was located on lot 13 on Water St. in Eddyville, opposite the Cumberland River. He apparently also owned the adjacent lot 33, on 2nd St. No record of his obtaining this property has been found, but the 1801 tax list shows he owns one or more town lots. On 27 Aug 1805 he, in partnership with
Samuel C.

Clark
, bought the adjacent lots 12 and 32, on Water, Franklin, and 2nd Steets
41,42
(see
map
.)      
Samuel C.

Clark
must have moved in with Gideon and his family by 1807. He is assumed to have been some relative of Modena's, but no evidence has been found to indicate what that relationship was.
43
On 7 Feb 1809 the two of them obtained a license to operate a tavern in their home, and apparently they operated it jointly. The tavern seems to have been a more welcoming in cold weather than the half-finished courthouse, as the county court for newly formed Caldwell Co. adjourned to there on at least six occasions in the winter months from 1810 through 1815.
44,45
     Gideon appeared on the 1810 Federal Census of Eddyville, Caldwell Co., Kentucky

, enumerated 1810 with a household consisting of three white males under age 10 (
Robert
and
Joshua
, and apparently
Caleb
, though he was about 13), and two between 26 and 45 (Gideon, and
Samuel C.

Clark
, who was listed as co-head-of-household); one female under 10 (
Mary
) and one between 10 and 15 (unknown), and one between 26 and 45 (his wife,
Modena Chittenden

Clark
).
46,47
     On 12 May 1814 Gideon's brother
Joshua
, of Greene Co., Pennsylvania

, gave their younger brother
John
, a power of attorney to recover debts owed to him by Cobb & Clark. There is no record of what those debts were.
48
     On 25 Dec 1815
Samuel
sold his interest in all four lots to Gideon for $500.
49
On 27 Feb 1816, Gideon sold lots 12 and 13, facing Water St. in Eddyville, which included his home and tavern, to his brother
John
, for $2,200.
John
obtained a license 22 Apr 1816 to keep a tavern in his home, with Gideon as security for the £100 bond.
50,51
Gideon as Tax Collector
--- Text Stolen from ReigelRidge.com !! ---
     According to his daughter Aurelia's recollections, Gideon had the mail contract between Eddyville and Fort Massac for a time. She related that he often had to carry the mail himself, leaving his wife and young son by themselves or sometimes with a hired man. No other record of his having worked for the Post Office has been found, but he clearly had other Federal Service. Since ths occured before her birth, Aurelia may have been confused about his role.
52
     Gideon was commissioned Collector and Inspector of Revenue for the "port and district of Massac" by President Thomas Jefferson in 1805. Because the commission was made to fill a vacant office while the Senate was in recess, the President officially nominated him in a long list of other officials on 20 Dec 1805, shortly after the 9th Congress convened, and he was confirmed 3 Jan 1806.
53,54,55
The exact duties of this office have not been learned, but presumably it involed collection of duties on goods imported on the Ohio River. The port of entry of Massac appears to have been located near Fort Massac, on the Ohio River, some 45 miles down-river from Eddyville, then in Indiana Territory and now in Illinois. The district it covered was expanded in 1801, in response to a petition from citizens of Tennessee, to include all of Tennessee, much of Kentucky, and presumably the Territory of Indiana. Given the other activities he is known to have engaged in Eddyville, appears Gideon was not required to spend any significant time at the port.
56,57
     Gideon was commissioned Surveyor for the "port of Massac" by President Jefferson in 1807. Because the commission again was made to fill a vacant office while the Senate was in recess, the President officially nominated him in a long list of other officials on 9 Nov 1807, shortly after the 10th Congress convened, and he was confirmed 18 Nov. Whether this was in addition to, or replaced, his previous post has not been learned. He continued to hold that postion until at least 1816.
58,59,55
Gideon's Farm
--- Text Stolen from ReigelRidge.com !! ---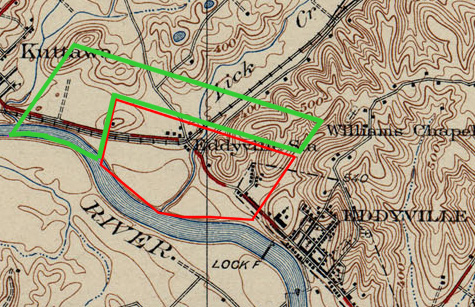 Gideon's 800-acre farm plotted on 1928 topo map
     On 16 Jul 1816, shortly after he sold his residence and tavern, Gideon was granted patents for two 400-acre parcels on the Cumberland River in Caldwell Co. The family had been certified for a grant of two parcels by the Livingston County Court on 5 Feb 1806, one in his own name and the second in the name of his eight-year-old son Caleb. Just how this was done is courious, since applicatants were required to be above the age of 18 and already settled on the parcel. The certificates had lapsed for failure to pay the required installment payments, but the one issued to Caleb was paid up and redeemed 8 Jun 1816 after the legislature provided extensions of time. Gideon allowed his own certificate to lapse and aquired another from Blake Baker for the second 400-acre grant.
60,61,62
     It is unclear whether Gideon and
Modena
and family moved to the farm or stayed in town. But it seems clear that Samuel Clark, and possibly one or two of his daughters continued to live with the family after his partnership with Gideon was disolved. Gideon appeared on the 1820 Federal Census of Eddyville, Caldwell Co., Kentucky

, enumerated 1820 with a household consisting of one white male under age 10 (
Gideon
Jr.), two between 10 and 16 (
Robert Livingston
and
Joshua
), one 19-26 (
Caleb
), and two over 45 (Gideon and probably
Samuel C.

Clark
); two white females under age 10 (
Hannah
and
Aurelia
), two between 10 and 16 (
Mary
and another), one between 16 and 26 (unknown), and one over age 45 (probably
Modena
, but she was only 41). One or both of two unknown girls may have been daughters of the widowed Samuel Clark.
63
     Gideon sold a parcel on the Cumberland River to his son
Caleb
for $160. This was apparently one of the two 400-acre parcels Gideon obtained in 1816. Caleb began declaring the parcel as his on the tax rolls in 1821, but the deed was apparently not made until later, dated 3 Aug 1823.
64,65
     Chittenden Lyon wrote in 1828 that Gideon "is reduced in his circumstances in consequence of losing a valuable farm, which was taken by a prior claim after a long law suit, which he had highly improved." Details of that suit have not been found.
66
That loss apparently occurred about 1823, as Gideon did not report acreage on the tax rolls after that year.
67
     Gideon and
Modena
returned to tavern keeping after losing the farm. His application for a license was delayed in May and August 1825 by a lack of a quarum at the county court, and was finally approved 17 Apr 1826. The license was regularly renewed until at least 1830.
68,69
It would seem that the tavern was actually run by
Modena
. Their daughter recalled, many years later, that she kept a hotel where she boarded the men who built barges.
70
     Gideon appeared on the 1830 Federal Census of Eddyville, Caldwell Co., Kentucky

, with a household consisting of one white male age 5 to 10 (
Giles
), one age 10 to 15 (
Gideon
Jr.), one 15 to 20 (unknown), seven 20 to 30 (probably
Robert
and
Joshua
, and others unknown), and one 50 to 60 (himself); one white female 10 to 15 (
Aurelia
), two 15 to 20 (
Hannah
and
Persis
), and one 30 to 40 (probably
Modena
, but she was 51); and one female and one male slave. The unknown males were likely permanent guests at the tavern/hotel.
71
The Cobb Mercantile Business
--- Text Stolen from ReigelRidge.com !! ---
     It seems sure that Gideon was engaged in trade from an early date. But exactly how is less clear. His great-grandson, noted humorist
Irvin Shrewsbury

Cobb
, wrote about him:
Almost before the clearings were made he had enrolled himself among that fabulous crew, half-hoss and half-alligator by their own telling—the keelboatmen. On great raftlike "broadhorns" of virgin timbers he loaded the produce of this fecund archipelago—red whisky, already beginning to be known as Bourbon; heavy rank leaf tobacco grown in the so-called Black Patch of western Kentucky and Tennessee; corn, hemp, pelts, hides, pumpkins and hoop-poles, but particularly the whisky and the tobacco—and floated it out to the Ohio and down the Ohio into the Mississippi, past the dens of the river pirates and through hostile Indian country on to the French and Spanish possessions and sold his cargo at New Orleans and broke up his arks for shipbuilding and then rode horseback or walked home again over the Natchez Trace, a more perilous journey even than the water cruise had been.
     While Irvin's account is perhaps colored by re-telling by several generations of family, the substance of the trade he describes is consistent with that described by other sources. According to family tradition, Gideon originated the idea of packing tobacco, "leaf, lugs, dirt clods, stalks, stems, trash, and all," into casks and "dousing the mess with crude sorghum molasses and pressing it to sticky solidity." The casks were supposedly shipped to New Orleans, then by sailing ships skippered by distant kinsman from Maine to Africa where they were traded for gold dust and ivory.
72,73
     Irvin would have us believe that his great-grandfather also founded the retail business that seems to have been the foundation of the next generation's success. Irvin said he had the ledgers and day books from the business, which recorded the sales of "everything from ox-bows and hymn-books, to flintlock muskets, mill wheels and painkillers." He continues that one of the earliest entries records purchases on the proprietor's account in anticipation of the birth of his first son born in Kentucky, in 1804.
74
     But Gideon never reported owning a store on the tax rolls, and a search of available early newspapers finds no mention of a Cobb store. However,
Matthew

Lyon
, uncle of Gideon's wife and sponsor of the move to Eddyville, did clearly have a store as early as 1802. It seems likely that Gideon was part of Lyon's business, perhaps even managed it since Lyon was occupied in so many other interests, including his service in Congress from 1802 until 1811.
75,76,77
Matthew Lyon continued to report his ownership of a store until 1812, and after he transferred his assets to his son Chittenden, he, later in partnership with his brother Matthew Jr., reported ownership of a store. The Cobb name is not associated with the store until 1822, when it is reported by the firm Lyon & Cobb, which according to deeds was composed of Chittenden Lyon and Gideon's son Caleb. So it appears that while Gideon likely had a major role in the mercantile business, he was never an owner.
78,79
Other Business Ventures
--- Text Stolen from ReigelRidge.com !! ---
     Gideon is also known to have owned a mill, a tannery, and carried on a hattery. The hatter was a Negro he owned, but he was stolen or persuaded away, according to his daughter.
80
     Various accounts have Gideon and
Matthew

Lyon
involved with early iron production in the area. Irvin claims Gideon "was a partner in setting up of the first iron furnace established west of the Allegheny Mountains." Presumably, his account is based on family oral history. He says that his great-grandfather was a metal-worker by trade as his father had been, and benefited from use of the iron ore and coal found on his farm in the furnaces. No contemporary records have been found to document their involvement, but Matthew did accumulate large tracts of land, which would seem to have been of little use other than for iron production. As early as 1803 he reported 3,125 acres on the tax rolls, and some 24 parcels totaling 5,965 acres in 1811.
81,82,83
     Gideon died on 1 Mar 1834 in Caldwell Co., Kentucky

, at age 60.
6,9
He was buried in Riverview Cemetery, Eddyville, Kentucky

, in the Cobb family plot, next to his wife.
2
We encourage you to use the "Contact Us" link below if you are interested in the people shown on this page or to inquire about people in related lines not included. Basic information on many more people we are in the process of researching can be found in our Outline Section. Please see the Main Page for details.

If the "Contact Us" link doesn't work for you, manually email this address: