Matthew Lyon1,2,3
ID# 1470, (1749 - 1822)
Narrative: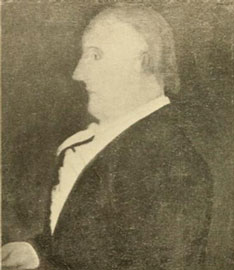 Matthew Lyon
from Matthew Lyon: The Hampden of Congress17
Matthew
Lyon
was probably born on 14 Jul 1749 near Dublin, County Wicklow, Ireland

, although many show the year as 1750, based on a 1900 biography.
4,5,6
Matthew immigrated about 1765 to America as an indentured servant when he was about fifteen years old. He was sold at auction in New York City to pay the captain of the ship for his passage from Ireland. While details are unclear, it appears he worked for two different masters in or near Litchfield Co., Connecticut before earning his freedom.
18,19,20
     Ethan and Ira Allen, whose uncle was the first husband of Matthew Lyon's mother-in-law, were among the speculators buying land in the "Hampshire Grants" – the area today known as Vermont. They extolled the opportunity to buy land at bargin prices in advertisements in Connecticut newspapers, and many responded. Apparently he decided to join them; in Feb 1773 he drew lots and purchased a parcel in the town of Wallingford, in what would become Rutland Co., Vermont.
21
     Matthew married first Mary
Hosford
, daughter of Samuel
Hosford
and Mary
Grant
, on 23 Jun 1773.
7
Matthew and Mary moved to Wallingford, probably late in 1773.
22,23
     Matthew was commissioned a second lieutenant in the regiment known as the Green Mountain Boys in July 1776. There he served with Ethan Allen who moved to the Green Mountains, which were claimed by both New York and New Hampshire. They captured Fort Ticonderoga from the British during the first offensive battle of the American Revolution and is said to have recovered a million dollars worth of plunder. He then organized a company of militia, and served as adjutant in Colonel Warner's regiment in Canada.
24,25
He continued to fight for the Revolution and rose in rank from Private to Colonel. In 1777, he helped draft the constitution for a new independent state to be called Vermont.
26
     Matthew moved to Arlington, Vermont

, in 1777.
1
     The newly formed state of Vermont continued the practice established by the colonial governors of New Hampshire of granting parcels of land to groups of "proprietors" to form towns. Matthew became a proprietor of seven towns, though it seems clear that in many cases his interest was speculation rather than establishing residence there. His first grant was for the town of Fair Haven, on 27 Oct 1779, by
Gov. Thomas

Chittenden
. He was named as one of 76 "associates of Capt. Ebenezer Allen" who paid £6,930 for the grant. Proprietors were required to cultivate 10 acres of land and build a house at least 18 feet square, or have one family settled on each share, within four years after the "circumstances of the present war...will admit of a settlement with safety." As with the royal grants, pine timber suitable for mast and spars for the Navy were reserved to the state.
27
     He bought a 1000-acre tract of land in Rutland County, Vermont in 1783 and founded a town, Fair Haven, on that land. He built a sawmill which was powered by the Castleton River, a brick kiln to make bricks to build the town, iron furnaces, a tannery, and the town inn. In 1784 he took his oldest son James to Philadelphia to study printing and bookmaking under Benjamin Franklin. Five years later he returned to Philadelphia, bought a printing press from Franklin, and brought his son home to Fair Haven. Lyon wanted to realize his boyhood dream to be a publisher, but he lacked any material on which to set print. He discovered a process for making paper from the bark of linden trees, and thus became heavily involved in the print trade. He published the
Farmers' Library
, afterward the
Fair Haven Gazette
, and a biography of Benjamin Franklin.
28,29
     His wife died on 29 Apr 1784.
30,31
     Matthew married second
Beulah

Chittenden
, daughter of
Gov. Thomas

Chittenden
and Elizabeth
Meigs
, in Aug 1784 in Vermont

.
8,9,10
     Vermont was admitted to the Union in 1791, and Lyon served as Delegate in the Vermont General Assembly from its founding until 1796, when he was elected to Congress. While in the Assembly, he is credited with founding the University of Vermont in 1791.
32,33
     Matthew Lyon was elected to Congress in 1796, where he served two terms while John Adams was President. Lyon disliked Adams' and the other Federalists' leanings toward a strong centralized government and believed it to be an attempt to stifle the tone of democracy written into the Constitution and Bill of Rights. Sparks often flew between Adams and Lyon. Adams desired to be called, "His Excellency the President," and arranged pomp and ceremony in the chambers of Congress much like the political tradition of Great Britain. Lyon flatly refused the ceremony and Adams and his supporters turned to the press to defame Lyon. An article in the
Porcupine Gazette
attacked Lyon for his views and also for his Irish brogue. Debate and tension increased in the House of Congress until the Alien and Sedition Acts were passed to provide a mechanism to officially quiet Lyon. Lyon was found guilty of the Acts without a trial and after pleading "not guilty."
34,35
     On 3 Oct 1798 Matthew was indicted on charges of
being a malicious and seditious person, and of a depraved mind and wicked and diabolical disposition, and deceitfully, wickedly, and maliciously contriving to defame the Government of the United States, and with intent and design to defame the said Government of the United States, and John Adams, the President of the United States, and to bring the said Government and President into contempt and disrepute; and with intent and design to excite against the said Government and President the hatred of the good people of the United States, and to stir up sedition in the United States, at Windsor, in said district of Vermont, on the 31st day of July last, did, with force and arms, wickedly, knowingly, and maliciously write, print, utter, and publish...a certain scandalous and seditious writing, or libel, in form of a letter...
36
     He was elected to a second term as a Congressman while serving his prison sentence. The Green Mountain Boys raised the $1000 required to satisfy Lyon's fine, and after the prison term was satisfied, Lyon returned to Congress in Philadelphia.
34,35
The Electoral College was unable to decide the 1800 Presidential contest, throwing the election into the House of Representatives. Much has been made of the fact that President John Adams lost his bid for a second term when Lyon cast the deciding vote for Thomas Jefferson after 36 ballots. While those facts are true, it was not Lyon who decided the election, and Adams was out of the running long before. The contest in the House was between Jefferson and Aaron Burr. Lyon had voted for Jefferson throughout the balloting. But the other Congressman from Vermont, Lewis Morris, had voted for Burr, and with the tie the state's vote could not be counted. For reasons now unknown, Morris was absent for the 36th ballot, allowing Lyon's vote to prevail, and with Vermont's vote, Jefferson was elected. So it was actually Morris, by his absence, who decided the outcome.
37,38
     Matthew was impressed with Andrew Jackson's glowing reports of opportunities in the Western Frontier. In the summer of 1799 after Congress adjourned, Lyon traveled south and west through Virginia to Nashville, where Jackson was waiting for him. Returning to Vermont, he sent his grown children and their families on to Kentucky that fall while he stayed in the east to serve in Congress. After completing his term and disposing of his property in Vermont, he led a group of about seventy other people, incuding his second wife
Beulah
and their young children, from Fair Haven to Eddyville. They traveled by wagon to western Pennsylvania, where they boarded flatbed boats and floated down the Ohio River to the Cumberland River to their new home, arriving 15 Jun 1801.
39,40,41
For details, please see
The Trek from Vermont to the Kentucky Wilderness
.
     In Eddyville he built a sawmill, grist mill, a paper mill, and a tannery. He received government contracts to build boats and had one of the finest boat building yards in the Mississippi Valley.
42
     He supposedly discovered how to use fluorspar in the flexing process for steel manufacturing. But no evidence has been found that he was part of the iron and steel industry in the area, leaving that claim very questionable.
43,44,45
     Six months after settling in Eddyville, he was elected to the Kentucky Legislature and then in 1802 he was elected to represent Kentucky in Congress. He missed only one Congressional term while moving his family 800 miles. He was reelected three times and served eight years as a Kentucky Congressman. Lyon became the leader of the Jefferson party in Congress until he retired in 1811 due to his opposition to the War of 1812.
42,46
On 4 Feb 1806 Matthew was granted 400 acres in Livingston Co., Kentucky

, by the county court.
47
     Matthew Lyon appeared on the 1810 Federal Census of Eddyville, Caldwell Co., Kentucky

, with a household consisting of one white male under age 10 (Giles), one between 16 and 26 (Mathew Jr.), one between 26 and 45 (perhaps Chittenden, though he was only 23), and one over 45 (Mathew); one female under 10 (Eliza Ann), and one between 10 and 16 (daughter Beulah); and ten slaves.
48
     On 24 Aug 1818 Matthew applied for an indigent pension based on his Revolutionary War service, under the act of 18 Mar 1818. His affidavit of application was made before the Caldwell Co., Kentucky

County Court. A penson of $20 per month was granted on 20 Apr 1819, including arrears back to the date of application amounting to $247.74.
49
He filed the required affidavit about his financial condition in the Caldwell Co. Circuit Court on 28 Jun 1820. In it he stated he had not disposed of any property since the passage of the pension act in order to bring himself within the requirements of the act, nor did anyone owe him any debts. He said his only property was two shares in Eddyville Steam Mill Company, for which he had paid $10 each, and which the court stated were not worth more than $50. He said his occupation was a farmer, but he was unable to work (he was 71), and that he and his wife were living with their children.
50
     In 1820 President Monroe, an old friend of Matthew, appointed him to be the United States factor (agent) to the Cherokee Nation in the Arkansas Territory. Matthew and
Beulah
moved to a two-story log home on the bluff overlooking the Arkansas River, at Sparda Creek, about 100 miles north of Little Rock.
51,52,53
     Matthew ran for the office of Delegate to Congress from Arkansas Territory

in the election held 6 Aug 1821. A number of accounts report that he was elected but died before taking office. However, the offical returns certified by the acting Governor reported that Matthew's opponent, James Woodson Bates, won by a count of 1,081 votes to 1,020. Matthew contested the election to the U.S. House of Representatives, claiming that there were illegal returns from several counties and asking that the election be set aside. His petition was referred to the Committee of Elections, which reported on 19 Dec 1821 that the "Petitioner having produced no testimony whatever in support of the allegations..." it submitted a resolution that the committee be discharged from further consideration. The House adopted that resolution the same day.
54,55
     Matthew died on 1 Aug 1822 in Spadra Bluff, Arkansas

, at age 73.
11,12,13
He was buried at Spadra Bluff, but in 1833 his sons disinterred his body and buried him in Riverview Cemetery, Eddyville, Caldwell Co., Kentucky

.
14,15,16
Children:
     Children with Mary
Hosford

: