Stories of the migration of a group of Vermont Yankees to the western Kentucky frontier, led by Matthew Lyon, enterprising Irish emigrant and rabble-rousing Congressman from Vermont, and Lyon's role in settling the Town of Eddyville, are found in a variety of places. Unfortunately, most versions contain significant inconsistencies and misstatements. This account uses some recently discovered original documents to present a hopefully more accurate rendering of those events.
Prior Accounts
Perhaps the best known and least accurate account was written by Lyon's youngest daughter Elizabeth Ann. In 1855 she wrote that he and some of his children set out from Vermont in early spring 1799, traveled by wagon to Pittsburgh, down the Ohio River, and up the Cumberland to the site of Eddyville. There he decided to stop, she tells us, commenced clearing the cane growing there, and constructed log cabins for the three families in the company and a saw-mill. After preparing materials for his own home and purchasing a large track of land, she says, he returned home in the fall, to set out again shortly with a larger party, arriving in July 1800.1 Many of her details are wrong, as described below, but we should probably forgive her misstatements since she was not born until some five years after these events took place, and wrote her book 50 years after that.
Later accounts added the story, largely confirmed, that Lyon was anxious to move west and, attracted by the glowing accounts of Andrew Jackson, visited him in Tennessee in the summer of 1799. But the details that followed, that on Jackson's advice, Lyon went down the Cumberland River to Eddyville, where he bought many town lots and a large tract of land, are largely contradicted by current evidence. The story that he then returned to Vermont where he collected his son James, his two married daughters and their husbands, his younger daughter Lorraine, and a few artisans, and took them to Eddyville is only partly true, as we shall see, because none of them reached Eddyville that fall. The accounts that he returned to Washington for the 1799-1800 session of Congress, then went back to Vermont to sell off his holdings there is essentially correct, except that this session of Congress was actually the last one held in Philadelphia. Several accounts correctly tell us that after the 1800-1801 Congressional session he set off with a larger group, including his second wife and their young children, for Eddyville, arriving in mid-summer of 1801.2,3
Preparing to Move West
Matthew Lyon had evidently decided to organize the move to Kentucky before his celebrated trip to visit Jackson in 1799, and on a much grander scale than eventually ensued. In March 1799 the Governor of Kentucky received a letter from Lyon stating his intent to move to that state with 1,000 families.4 Lyon set off for his exploratory journey shortly after the fifth Congress adjourned its second session on Sunday, 3 March 1799.5 He reached Knoxville on 29 April 1799, and stated his plan to proceed on to Nashville, thence "to pass through Kentucky, the northwestern territory, Pennsylvania and York" before arriving home to Fair Haven, Vermont, by the end of June.6 Whether or not he actually visited Eddyville on that trip is unclear. But clearly he did not purchase any land there on this trip. No record of any purchase by him prior to the summer of 1800 as been found, and his directions to the party setting off that fall left them considerable latitude to settle anywhere on the Cumberland, even as far up as Tennessee.
Lyon seems to have arrived back in Fair Haven by midsummer, as planned. He set about selling off his property and assembling a small party for the initial move to Kentucky.7 He sold a substantial block of property on 3 August 1799, and a total of at least 13 parcels between then and 7 October 1799. These sales involved about 460 acres of land, mostly in small plots, but included his home place and his interests in his sawmill, grist mill, and paper mill.8 In an illustration of the curious mix of currencies then in use, he received a nearly of $5,500 for fourteen of the sales, and £147 2s for the other four. For details, see my extracts of Fair Haven Deeds.
 
Legend:
 

 By covered wagon
 
 
   

(route estimated based on known wagon routes)

 

 By flat boat
The First Party Moves West
The party must have departed immediately after the 7 October deed was signed.9 They traveled by wagon to New Geneva, in western Pennsylvania on the Monongahela River, some 60 miles south of Pittsburgh. It would appear that he chose New Geneva rather than Pittsburgh as an embarkation point because his fellow Congressman, Albert Gallatin, had his home there. There they were to transfer to flat boats for a river journey to western Kentucky.
The distance between Fair Haven and New Geneva is about 550 miles by modern roads; probably over 600 miles by the roads available then. Various sources suggest wagon trains of the type the party used could accomplish around 10 miles per day. At that rate the wagon trip would have taken about two months. They carried with them saddles, bridles, shoe uppers, boots, tin ware, two stills, printing materials, blacksmith tools, and farming tools, in all worth nearly $4,000. Lyon said some of this material was to be left on the Monongahela until later.10
The group with its five teams arrived at New Geneva in mid-November 1799, where Lyon sold his teams and purchased iron, millstones, and grindstones. With the river level too low to proceed, he left the party "fixing their boats & makeing preparations."10 He returned to Congress in time for the opening of the 6th Congress on 2 December 1799.11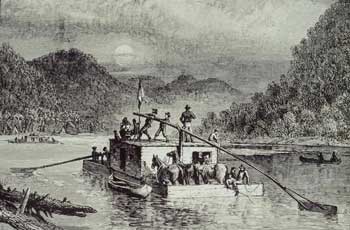 No evidence has been found about exactly when the group began its river trip, or exactly when it reached western Kentucky. Clearly Lyon expected them to set off before he returned from Congress, but without a specific destination. Lyon said he ordered them to "go down the Ohio - to the Mouth of Cumberland & the up that river until they are suited with regard to the Situation of the Country, & the price of Land & there set down. I have rather given a preference to Kentucky because land I believe may be had Cheaper there than in Tennessee, however I have given them Latitude to go up as far as they chuse."10 No evidence has been found about who was responsible for selecting the actual site when they arrived in western Kentucky.
The distance from New Geneva to the Cumberland River is roughly 1,100 miles.12 According to one source, a good day's journey was 50 to 100 miles.13 Assuming an average of 75 miles, which may be optimistic, the river journey would have taken at least two weeks. It would seem they could have arrived by early spring.
Members of the First Party
Lyon wrote that the party included one of his daughters and her husband, an unmarried daughter, a niece and her husband, and several adventurers.10 His reference to only one of his married daughters conflicts with other accounts, including Elizabeth Ann's, which indicate that two married daughters, Pamelia and her husband George Cadwell, and Ann and her husband John Messenger, were in the initial group. The unmarried daughter was Lorraine, his youngest daughter by his first wife. We do know that the niece and her husband were Gideon Dyer Cobb and his wife Modena Clark, who was actually the niece of Lyon's second wife. Some accounts include Lyon's son James in the initial party,14 but neither Lyon's letter nor Elizabeth Ann's account mention him.
No record of the identities of the other "adventurers" has been found. However, since the second party did not arrive until 15 June 1801,15 some candidates can be identified from various records. Among names recognized as part of the Vermont contingent, John Troop and Lyon's son-in-law George Cadwell are recorded as making purchases from an estate sale on 3 March 1801.16 Elijah Galusha, son of Lyon's second wife by her first marriage, obtained a grant of 400 acres on 5 May 1801.17 Samuel C. Clark, who seems to have been a relative of Gideon Cobb's wife Modena, obtained a grant for 400 acres 7 July 1801.18 They must have been part of the first party, unless some of them moved west when Lyon traveled to the area in the summer of 1800 to purchase land, as described in following section.
Preparing for the Main Move
While Lyon did not buy property in western Kentucky on his earlier trip, he did travel to the area where the first party had settled after the 1799-1800 session of Congress, and made a number of purchases. He evidently made his first purchase on 1 July 1800, a warrant for 200 acres, which he had surveyed on 7 July.19 On 15 and 18 August he purchased and had surveyed five more parcels, and purchased another 200 acres on 29 August.20,21,22 These warrants, which had been issued to settlers south of the Green River, represented the right to purchase 200 (later 400) acres of land. A survey was then made to establish the actual boundaries of the parcel. The rights were commonly sold, often several times, until the required payment was made, and the state issued a patent for the parcel. After making these purchases, Lyon returned to Fair Haven to prepare for the departure of the second party.
While still in Philadelphia, on 15 March 1800, he had sold his slitting mill with 300 acres of land to Edward Douse, of Dedham, Massachusetts, for $4,500.23 Once back in Fair Haven, he sold the remainder of his property to Josiah Norton, in a single transaction dated 12 November 1800, for $1,590. That sale included 220 acres of land made up of a number of smaller parcels, and his saw mill "above the main road" (he had previously sold another one). In addition, apparently in an effort to dispose of any remaining interests, the sale included all the town lots that he may have still owned in Westhaven, and all that "may remain" after the so-called fourth division in New Haven and Westhaven.24 This last reference would have been to Lyon's claim, as one of the original grantees of the town (which originally included what had become Westhaven) to any lands not specifically assigned in the four "distributions" to the individual proprietors. The next day he signed another deed to settle disputes arising from his sale of the grist mill the previous year.25
Lyon did not arrive in Washington for the second session of the Sixth Congress until 10 December 1800, three weeks after the session opened (many others missed the first few days, but he was later than most).26 It seems unlikely that the second party could have traveled all the way to New Geneva in less than a month, the time between Lyon's last established presence in Vermont and his appearance in Washington. Perhaps he accompanied them only part way, or perhaps, considering how late in the year it was, they had gone on without him, if indeed they left that fall.
Making the Second Trip
There is no reliable information known about when the second party's trip began. Elizabeth Ann reports they spent the winter in Pittsburgh, and arrived in Eddyville in early July 1800.27 But Lyon reported that he and his family arrived 15 Jun 1801, so we can be confident that she had at least the year wrong, or had it confused with the first party.15 Another account has Lyon and the party leaving Fair Haven in April 1801, but that hardly seems possible given their arrival date in Eddyville.28
A young man of about 13 years recalled 70 years later "watching the emigrant wagons as the passed through Hampton, making a fine display of their imposing white canvass, proclaiming ther departure to the great unknown south-west."29 Unfortunately, he noted neither the date nor whether Col. Lyon himself was part of the parade. Lyon was present at the close of the second session of the Sixth Congress on 3 Mar 1801.30 He was still in Washington on 4 Apr, delayed by some unidentified business, and stated his intention to depart for New Geneva within a few days. He expected to be delayed there a week or two by business before proceeding west.31 Either the others made the wagon trip in the spring without him, or they repeated the pattern of the first party, departing Vermont in the fall and overwintering in western Pennsylvania, as Elizabeth Ann described.
Every account I have found states that the party traveled to Pittsburgh. But Lyon said that he was going to retrieve his property that had been "left a while on the Monongahela," presumably at New Geneva,10 and he made it clear that he was heading there from Washington.31 It is not clear whether he then joined the main party in Pittsburgh, or whether they embarked from New Geneva like the first party.
There seems to be general agreement that the second party was quite large, over 70 people by some accounts.32 But nothing resembling a complete list of those involved has been found and it has proved difficult to identify anything approaching that number. The party included Beulah Chittenden, Lyon's second wife, and their young children.33,34 Other than her parents, Elizabeth Ann's account mentions only Mrs. Troop,35 presumably the wife of John Troop who made purchases from the estate sale in Mar 1801.
One account claims one of the Lyon parties, whether the first or second is unclear, was joined in Louisville by some craftsman and their families, including George Gracey, whose descendants were associated with the Lyons and Cobbs for several generations.36 Gracey was clearly an early arrival in Eddyville, though the date of his arrival has not been established, and apparently came to Eddyville from that area.37 So it seems probable that some of the settlers with the Lyon parties did not originate in Vermont.
Lyon and the Founding of Eddyville
There is a popular notion that Matthew Lyon was the founder of the town of Eddyville. While the story was found in history books by at least 1888,38 it clearly had its origins much earlier. As cited above, Elizabeth Ann wrote that he, as part of the first party from Vermont, decided to stop at the site that became Eddyville. But as we have seen, apparently he did not in fact select the location nor even arrive with that party.
One account has Lyon laying out the town in the fall of 1799 after arriving with the first party.39 However it is well established that the town of Eddyville was laid out by David Walker on land he received in two grants of 1,000 acres each for his service in the Revolutionary War. About 1798 he surveyed and laid out the town lots. But apparently he did not remain long in the town and left Charles Stewart to take care of land sales.40,41 If Lyon didn't literally found the town, he did soon became its largest land owner. On 22 July 1801 and 23 August 1802 he purchased at least 28 town lots from Walker, and likely all the 48 of the total of 120 lots in the town which he is known to have owned (see map).42,43 On the same dates he purchased from Walker two parcels adjoining the town of about 200 acres each.44 Lyon continued to acquire land in the surrounding area, until by 1811 he owned a nearly 6,000 acres. 45
The same account has Lyon naming the town after Thomas Eddy, philanthropist and early advocate of prison reform. However the town was identified as Eddyville as early as 27 Aug 1799, when the citizens of Livingston County voted to make the town the seat of justice for the new county.46 This is before Lyon owned any property in the area, and apparently before he even visited the locality. More credible accounts have the town named for eddies in the river above and below the town site.
Lyon seems to have not taken a direct part in local politics. When the town was legally established on 25 October 1800 Lyon had no apparent part in the proceedings. But Gideon Dyer Cobb, husband of his wife's niece, was appointed as one of the initial town trustees.47 By the time the 1800 census was taken, supposedly as of 4 August 1800, Eddyville already had a population of 69 persons, including 12 slaves.48,49 Young Gideon fulfilled a variety of other civic positions over the years, including appraising estates, siting the ware house, and marking off roads.50 The county order books show Lyon filling none of these roles. He was apparently more interested in state and national politics, being elected to the state House of Representitive in 1802, and then to Congress again later that year.51
Lyon the Tireless Promoter
While Lyon clearly was not literally the founder of Eddyville, and apparently did not even select it himself as the site for the Vermont company's resettlement, he clearly endorsed the choice after it was made. Even before his family had arrived he petitioned the Kentucky legislature to grant 20,000 acres to himself and certain emigrants from Vermont. It declined that request, but did offer land grants to all settlers.52 At the same time he was publicly urging others to join the migration. On 25 January 1801, during his final term in Congress representing Vermont, he wrote a letter to the editor of the Vermont Gazette which was widely reprinted in other papers:
     I am settled at a place called Eddyville, situate about forty miles up Cumberland river, which empties into the Ohio, at about sixty mile from its confluence with the Mississippi, and a few miles above the mouth of the Tennessee.
     Eddyville is in the centre of Livingston county well situated to enjoy a country trade of forty or fifty miles extent, and to command its share of the river business; the river being navigable for light boats for 300 miles above Eddyville, and for heavy flat boats down to New-Orleans, at all seasons of the year, and at high water for any vessel whatever. The country is new, having been among the hunting ground of the Indians at the time of Wayne's treaty. The Indians have all retired some hundred miles south and west of Cumberland, and there are now a great many good farmers settled in Livingston, Christiana, and Logan counties, which too last are adjacent to and older settlements than Livingston county, and whole trade will be considerable advantage to Eddyville, if settlement prospers.
     Money is not yet plenty here nor yet so scarce as in Vermont when equally new. The present and ensuing years sale of tobacco, cotton, hemp, wheat, beef and pork, will help us greatly in this respect, as our imports are small and salt is made in great quantities among us. Cast iron is made in Kentucky, and in the neighborhood of Nashville, in Tennessee.
     There is in Kentucky, particularly in the counties of Livingston, Henderson, Christiana and Logan, large quantities of vacant land, a considerable share of which is good for cultivation. For 2 years past I have petitioned the legislature to set apart a share of that land for such republicans from Vermont as may emigrate hither. The legislature have not thought best to comply in all points with my petition; but they have done more, they have offered their vacant land to any body that will settle it, in 400 acre lots, or less, except that those settlers who have had 200 acres already, shall have but 200 acres more. Now is the time for the Vermonters to think of starting, if they mean to take advantage of this generous offer. The situation is desirable; the soil luxuriant, the climate temperate, and provisions easily obtained. It is for my republican friends I have endured this trouble and expence; I have petitioned for them myself; they are welcome to it; they will hold a place in my heart while it retains its affections.
53
No evidence has been found to indicate how successful his appeal may have been.
Lyon, the Cobbs, and Iron
Lyon is in some accounts described as an ironmaster, having learned iron smelting at the hand of Ethan Allen, whose niece was Lyon's first wife.36 Other accounts have his interest in western Kentucky was based on the resources for iron-making there. Some accounts portray his nephew Gideon Cobb as an iron worker as well.
Putting aside the fact that Lyon's first wife, Mary Hosford, was not actually related to Allen (her mother was married to Allen's uncle before she married Mary's father), there is no evidence that Lyon engaged in iron making either in Vermont or Kentucky. In a lease of a saw mill to his son James and Moses Scott in 1797 he reserved the right to divert water to a "slitting mill and two forge fires or works which may be erected."54 But only the slitting mill (a watermill for slitting bars of iron into rods) appears in the property he sold in preparation for the move to Kentucky.23 There is mention no of a furnace, which would have been used to make iron from ore, in any of the deeds in which Lyon disposed of his Vermont properties.
Lyon's description of the property he was taking to Kentucky mentions as metalworking equipment only blacksmith tools.10 An extensive review of Livingston and Caldwell County court orders, deeds, and tax lists, along with other records such as newspapers, by both the author and others, provides no clue that he or Gideon Cobb owned iron works.55
Lyon provided a detailed listing of his property when he transferred his entire holding to his son Chittenden in 1812 as bankruptcy approached. It lists a boat yard, store, distilleries, card manufactory, and pottery and stoneware manufactory, but nothing related to metal working save blacksmith tools again, and some iron castings.56 He held little of value in his own name after that, and in 1818 he applied for and was subsequently granted an indigent pension based on his Revolutionary War service.57
While Lyon and Gideon Cobb were not involved with iron making in Kentucky, Gideon's sons Caleb, Robert, and Gideon Jr., were extensively involved in that industry several decades later. Caleb, in partnership with Willis B. Machen, built Livingston Forge in the 1830's.58,59 Robert and the younger Gideon bought Eddyville Furnace from John and Samuel Stacker in 1844.60 They sold it in 1850 to William and John Kelly.61 Caleb apparently built the Crittenden Furnace two miles west of Dycusburg in 1848, and sold it to his brother Gideon in 1849 but continued to operate it.62,63