Elkanah Cobb1,2,3
ID# 1266, (1746/47 - 1795)
Spouse: Mary

Willard

(about 1749 - 1 Aug 1842)
     Children:
One source shows also a daughter, name unknown, born about 1772, who died young. No other record of her has been found. The migration of Elkanah and Mary's children can be seen on their
Migration Map
.
62
Narrative:
     Elkanah
Cobb
was born on 21 Jan 1746/47 in Norwich, Connecticut

.
1,4
     Elkanah married
Mary

Willard
, daughter of
Jonathan

Willard
and Sarah
Childs
.
5,6
Moving to the Frontier on the Upper Hudson
--- Text Stolen from ReigelRidge.com !! ---
     Elkanah and his four brothers,
William
,
John
,
Ebenezer
and
Joshua
, moved from Connecticut to the settlement of Stillwater, on the Hudson River in the Saratoga Patent in the Saratoga Tax District of Albany Co., New York. We know that Elkanah was there by 1773 when his son Gideon Dyer was born and at least until 1776 when Joshua was born, but had returned to Connecticut by 1778. Ebenezer and Joshua evidently were there before 1777, but John may not have arrived until 1779.
12,13,14
(See
background and map
.)
     It is unclear whether Elkanah and
Mary
were married before they went to Stillwater, or whether they were married there. In any case, they evidently returned to Connecticut sometime between May 1776 and Jul 1778 with their two young sons,
Gideon
and
Joshua
. Their daughter Sarah is recorded as having been born there, and Elkanah does not appear with his brothers in the later records in Saratoga. No record of why they moved has been found, but it is easy to suppose that the war raging in the Hudson Valley in the summer and fall of 1777 might have provided reason enough for the young family to depart the area, as many did. The bloody battles in Sep and Oct that lead to General Burgoyne's ruinous defeat took place less than five miles from the village of Stillwater.
15,16
Settling in Pawlet, Vermont
--- Text Stolen from ReigelRidge.com !! ---
     Elkanah and
Mary
moved to Pawlet, Vermont

from Connecticut with their children,
Gideon
,
Joshua
and
Sarah
, about 1780, joining his brothers,
John
,
Ebenezer
, and
Joshua
, and their father,
Gideon

Cobb
.
17,18,19
(See
background and map
.)
     Elkanah, and his bothers
John
,
Ebenezer
, and
Joshua
, all participated in Col. Ira Allen's Regiment during military actions in Vermont

in 1780 and 1781. Surviving records show that all four were with Capt. John Stark's Militia Company "in defense of the Northern frontiers of this State" in Oct 1780, when Elkanah served for 12 days as a private, then seven more as clerk.
20
     Elkanah's first land purchase in Pawlet for which we have record was on 18 Dec 1783, when he purchased lot no. 5, containing 50 acres, for £125.
21
He apparently became an active member of the community, including serving as town Selectman in 1785.
22,23
The Mercantile Tradition Begins
--- Text Stolen from ReigelRidge.com !! ---
     Elkanah kept a store near the center of Pawlet, but just when is unclear.
24
A newspaper advertisement that ran in Feb and Mar 1785 directed "Those gentlemen and ladies who would wish to subscribe for Dr. Watts's Psalms and Hymns, may apply to the undermentioned gentlemen, who have subscription papers lodged in their hands." Thirteen men are listed, including, in Pawlet, Elkanah. It is not clear whether he was participating personally or on behalf of his store, or perhaps at the time there was little difference. Dr. Watts was a pastor and noted hymn writer in England who died in 1748. His works are still being published in print and on the Internet today, but just what form they were being offered in here is unclear.
25,26
     Elkanah joined his brothers
John
,
Ebenezer
,
Joshua
, and 45 other residents of Pawlet in signing a petition to the General Assembly dated 6 Sep 1785, asking that the Assembly incorporate the Congregational Society of Pawlet. They wanted to tax themselves in order to support "a Minister of the Gospel of the Congregational Order" in the town. Apparently their request was granted.
27
Buying and Selling Land
--- Text Stolen from ReigelRidge.com !! ---
     Elkanah engaged in a series of land purchases and sales, apparently using borrowed money to finance the deals. On 17 Apr 1786 he purchased a 180-acre farm at the foot of and adjoining Wells Pond, in Wells, from Joseph Lamb, paying £360.
28
On 29 Sep 1787 he mortgaged that farm for £200, payable in six months, to Robert Henry, Robert M
c
Clallen and Robert Henry Jr., merchants of Albany, Albany Co., New York

.
29
     On 6 Oct 1787 Elkanah purchased a 500-acre parcel in Wells, known as Governor's Lot, from Ogden Mallory, for £100.
30
He had apparently also purchased all or part of lot no. 4 in Pawlet, although no record has been found, as on 9 Nov 1787 Elkanah mortgaged lot no. 5 and also half of lot no. 4, amounting to 25 ac., to secure his note for £400 York currency to the same parties.
31
On 30 Apr 1788 Elkanah bought from his father-in-law,
Jonathan

Willard
, lot no. 11, containing 50 acres, for £60. On the same day he sold his father-in-law for £3 15s a parcel which appears to be a part of lot no. 4. The size of the parcel is not stated in the deed, but measures to about 25 acres.
32,33
34
Elkanah purchased, apparently on 4 Jul 1789, three parcels in Pawlet totaling 111¾ acres, from Jonathan Lawrance and Melaeton Smith of New York city and Nathaniel Platt of Dutchess Co., New York. He paid £230 14s 8p, apparently paid with three notes equal notes payable on 2 Sep of that year and each of the following two years, giving them a mortgage to secure the notes.
35
     Elkanah Cobb appeared on the 1790 Federal Census of Pawlet, Rutland Co., Vermont

, (which was enumerated 4 Apr 1791, after Vermont became a state in Mar 1791) with a household consisting of five males under 16 (sons
Joshua
,
Willard
,
Elkanah
,
John
and
James
) and four over 16 (himself, sons
Gideon
, and two others), and four females (his wife,
Mary

Willard
, daughter
Sarah
, and two others.)
3
     On 9 Jun 1791 Elkanah sold his 136-acre farm in Pawlet to Robert Henry Jr. & Robert B Henry of Albany Co., New York, for £930 money of Vermont. Farm was composed of lot no. 5, which he had purchased in 1783, lot no. 11, which he purchased in 1788, and the remaining portion of lot no. 4, which he purchased before 1787.
36
     In an advertisement in
The Albany [New York] Gazette
on 15 Sep 1791, the buyers offered it for sale, describing it as:
That valuable FARM, situate in the town of Pawlet, in the State of Vermont, now in the possession of Elkanah Cobb, adjoining the farm of Jonathan Willard, and containing one hundred and thirty six acres, of the best arable and meadow land, the greater part of which is presently highly improved. – There are on the premises a good dwelling house, store, barn, corn-house and oil-mill.–The dwelling house and store stand at the junction of two public roads, one of which is the main road to the lakes. From the richness of the soil, and its situation in a flourishing part of the country, this place is well calculated for a farmer or merchant.
Interested parties were to apply for details to Robert Henry Jr. and Robert R. Henry in Albany, New York, with possession to be delivered the following April. The same advertisement ran in the
Vermont Gazette
from Sep until Dec.
37
Building the Mill
--- Text Stolen from ReigelRidge.com !! ---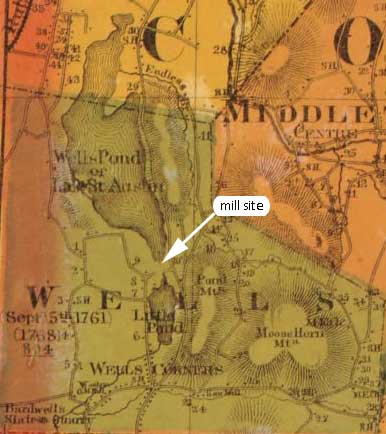 Location of Elkanah Cobb's Mill
     On 20 Sep 1791 Elkanah sold half the farm at the foot of Wells Pond to Simon Francis, for £150.
38
About this time, in partnership with Francis, Elkanah constructed a mill dam and sawmill at the mouth of Wells Pond, now called Lake St. Catherine. It seems likely it was built on the farm Elkanah had purchased in 1786 and half of which he sold to Francis in 1791. The dam seems to have been of some substance, as it raised the water level for most of the length of Wells and into Poultney, the next town to the north. Francis was well established in Wells, having been tax collector and other civic duties, a tavern keeper, and active in buying and selling real estate.
39,40
     On 10 Feb 1792 Elkanah sold what was apparently the last of his holdings in Pawlet to Nathaniel Platt of Platt Borough, Clinton Co., New York, one of his lenders. The sale consisted of the three parcels he had purchased from Lawrance, Smith and Platt three years earlier, a total of 111¾ acres, which he sold for £270.
41
     Elkanah and
Mary
moved to Wells, the next town north of Pawlet, evidently by 6 Mar 1792, since he was nominated for a tavern license at the meeting of town selectmen on that date. He apparently continued to keep a tavern until his death, as he was again nominated for a license in Mar 1795.
42,43
     It would appear that it did not take long for Elkanah to become involved in community affairs after he moved to Wells. His home there, probably his tavern, was the location where the property of delinquent taxpayers was to be sold on 23 Dec 1793. The tax in question was at the rate of one half-penny per acre, set by the Vermont legislature in Nov 1791. In 1794 he was elected as one of the haywards and a petite juror. He was one of the three freeholders appointed in early 1795 to appraise property being taken to satisfy a court judgment.
44,45
The Mill Dam Controversy
--- Text Stolen from ReigelRidge.com !! ---
     The dam Elkanah and his partner created built caused considerable controversy in the community. On 30 Sep 1794 over 100 residents of Wells and nearby towns petitioned the state Assembly, stating the dam was causing the following problem:
…a Large proportion of the inhabitants of Wells aforesaid, & the adjoining Towns have for two years past suffered extremely with the Fever & Ague & other distempers commonly attending the flowing, with dead water, such sunken lands. -- and it continues to be very sickly, in so much that there is not well persons enough to take care of the sick; whole families are infected; in almost every house may be few grown persons or children, as pale & distressed to be described. Some have already died, & others there are deemed incurable.
The petitioners asked that the Assembly order the dam demolished, or for other relief. Elkanah was summoned to appear before the Assembly on the second Thursday of October to "give reasons, if any he have" why the relief requested should not be granted. On 2 Oct his partner, Simon Francis, renounced all is right in the dam.
46
     Elkanah's arguments seem to have been compelling. On 30 Oct 1794 the General Assembly passed an act that did not order the demolition of the dam, but required the owners to lower the pond to its natural level by 1 May each year, and not raise it until 1 Oct. In an interesting reflection on the value of mill construction in those times, the owners were entitled to file a bill in the County Court for the loss they incurred by this requirement. The Court was to determine a reasonable amount for these damages, and the restrictions would only be in effect if the petitioners then paid that amount.
47
     Apparently the legislature's solution to the mill dispute was not satisfactory to all parties. In the 2 Jan 1795 edition of the
Vermont Gazette
this article appeared:
We hear from Wells, that a few days ago the mills at the head of Wells pond, so called, belonging to Mr. Elkanah Cobb, were entirely consumed by fire; from the circumstances, or informant says, the fire is supposed to have been kindled by design—the probability of which is heightened by the uneasiness which has long prevailed about the situation of the mills, and which lately occasioned legislative interference, on the petition of a number of the inhabitants of Wells, &c.
Elkanah filed suit for damages in the County Court, but he died before the case was heard. In the meantime the mill dam was pulled down.
48,49
     Elkanah died on 10 Aug 1795 in Wells, Vermont

, at age 48.
7,8,9
He was buried in Pawlet Cemetery, Rutland Co., Vermont

.
10,11
Administering His Estate
--- Text Stolen from ReigelRidge.com !! ---
     His son
Gideon
and his brother
Ebenezer
, acting as Elkanah's administrators, pursued the case Elkanah had filed for damages to his mill, and won a judgment for $200 against Roger Stevens, Gilbert Toper, Nath
l
Lewis, and John Shumway Jun
r
, which the defendants appealed to the Supreme Court. In the meantime the administrators filed a second suit for damages to the dam, in which they won damages of $20 plus $146 in costs. At that point the defendants filed a motion claiming that the administrators had no standing to bring the suit. With both suits pending but undecided in the Supreme Court, the administrators filed a petition with the state Assembly on 20 Sep 1798, asking it to direct the Court to hear and determine the cases as though they had been prosecuted by Elkanah before his death. On 22 Oct 1798 the petition was read to the Assembly, and the petitioners granted leave to withdraw it, with no explanation provided by the record. The outcome of the Supreme Court cases has not been found.
50,51
     The probate court ruled on 5 Aug 1799 that Elkanah's personal estate was insufficient to pay his debts, requiring his administrators to sell all his real estate. The court appointed three men to appraise the property, then a directed that if no purchaser appeared the property was to be sold at public auction. His son
Gideon
, as one of the administrators, was authorized to proceed with the sale, returning the results to the court on 7 Oct.
52
The administrator then ran the following advertisement in
The Vermont Gazette
:
To Be Sold
At public Vendue, the real estate of Elkanah Cobb, late of Wells, deceased, to the highest bider, at the dwelling house of Mr. Simon Francis in Wells, on Friday the 29th day of September next, by order of Judge Probate.
Gideon D Cobb, Commissioner. Castleton, August 19th 1799.
53
We encourage you to use the "Contact Us" link below if you are interested in the people shown on this page or to inquire about people in related lines not included. Basic information on many more people we are in the process of researching can be found in our Outline Section. Please see the Main Page for details.

If the "Contact Us" link doesn't work for you, manually email this address: