William Frederick Glabe1,2,3,4
ID# 242, (1882 - 1954)
Narrative:
     William Frederick
Glabe
was born on 15 Oct 1882 in Farmdale, Illinois

.
6,9,10
     He moved to Peoria with his parents about 1891.
20,21

, in the household of his parents.
7
     He became a driver for Charles Fieselmann Meat Market, located at 119 North Washington, by 1899, when he was 16 years old. He worked there until about 1902, when he became a driver for Planck Brothers laundry, at 424 Fulton.
22,23
     He began working for the railroads about 1903, when he was a clerk for the Illinois Central. After working there about two years, he took a similar postion with the Chicago, Peoria and St. Louis Railway, where he worked until 1912.
24,25,26
     William married first
Estella Pearl

Watson
, daughter of
John Quincy

Watson
and
Lucy Florence

Walker
, on 15 Nov 1906 in Peoria, Illinois

.
11,12,13
     William and
Estella
lived at 1804 North Monroe, in Peoria

for a short time after their marriage. Family tradition held that they lived in various cities because of his work for the railroad. His daughter, Carmen, recalled seeing postcards he wrote to his wife during that time, which included the period around her birth, which was in Missouri. But the city directories show his residence in Peoria every year except 1908, so assignments out of town must have been the exception rather than the rule.
27,28
     William and
Estella
returned to Peoria by 1909, and lived there with her parents at 408 Chestnut breifly

.
29
They moved to 1705 N. Monroe St.

the following year.
30
They appeared on the 1910 Federal Census of Peoria, Peoria Co., Illinois, at 1705 N. Monroe St., enumerated 15 Apr 1910. Their children
Carmen
and Carrie were listed as living with them.
31
They then moved to 436 First Ave.

then moved to 608 Cornhill

the following year.
32
Working for the Jefferson
--- Text Stolen from ReigelRidge.com !! ---
     About 1913 William began working as an auditor for the Jefferson Hotel, supposedly the best in Peoria. In a 1914 advertisement, the hotel called itself "Peoria's New Hotel," with 225 rooms each with private bath, a rate of $1.50 per day European plan, three cafes, two buffets, and a billiard room. Cigars, a barber shop, flowers, and stenographer services were available. One might suspect that William had some help obtaining his job, as Arthur Lehmann, brother of his wife's older sister Minnie's husband, was secretary and treasurer of the company that owned the hotel.
33,34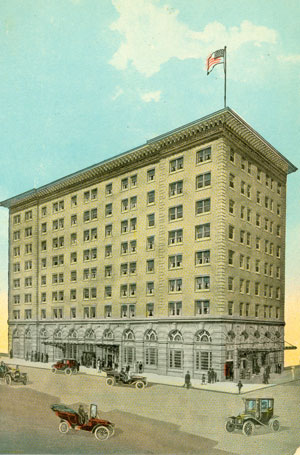 Jefferson Hotel, Peoria
Local History and Genealogy Collection,
Peoria Public Library, Peoria, Illinois
William worked at the Jefferson until about 1920. That job required him to take the hotel's receipts to the bank for deposit, and he carried a revolver when he did so. That revolver was the subject of some discussion with his grandchildren years later when they found it in the linen closet.
35,36,37
     About 1915 the family moved to 1211 East Gift Ave.

, where they lived for about four years.
38,39
William and
Estella
moved to 314 N. Elmwood Ave.

about 1920, the home he owned until he and his second wife moved to California about 1939.
40,41
They appeared on the 1920 Federal Census of Peoria, Peoria Co., Illinois, at 314 N. Elmwood Ave., enumerated 14 Jan 1920. Their children
Carmen
,
Florence
and
Jessie
were listed as living with them.
42
Estella
's parents,
Lucy
and
John Quincy

Watson
, lived with them there for a brief time about 1918.
43,44,45
     His wife died on 6 Nov 1924 in 314 Elmwood Ave., Peoria, Peoria Co., Illinois

.
46,47
     William married second
Marie Belle

Neiphagen
, daughter of
William Charles

Niephagen
and
Aloria Antoinette

Bliss
, on 23 Mar 1926 in Peoria, Illinois

.
14,15,16
     William and
Marie
appeared on the 1930 Federal Census of Peoria, Peoria Co., Illinois, at 314 North Elmwood Ave.

, enumerated 9 Apr 1930, reporting that the family owned a home valued at $10,000, and owned a radio. His children
Carmen
,
Florence
and
Jessie
were listed as living with him.
48
Working for the Bakeries
--- Text Stolen from ReigelRidge.com !! ---
     About 1921 William left the hotel and became an auditor for Federal Baking and Pastry Co. He remained with that firm until about 1932, raising to secretary-treasurer of the firm by 1930. His daughter Carmen recalled her father working at the hotel until he was laid off during the Depression, then venturing to California. But the records show he left the hotel long before, and in fact worked longer for the bakery than he had for the hotel. Perhaps the hotel position seemed more prestigious and was thus more memorable.
49,50,51,28
     It seems likely that the bakery failed about 1932. In the 1933 city directory William is listed without an employer, and the company is no longer listed. In 1934 he was employed as an office manager for another baker, John H. Mason, apparently a small firm at 810 Lincoln Ave. The following year he was listed as an auditor of the firm, now called Lincoln Park Bakery, and continued in that position until 1938.
52
Cottage Cheese in California
--- Text Stolen from ReigelRidge.com !! ---
     According to his daughter Carmen's recollection, after being laid off by the hotel, he worked at a dairy in Peoria. While at the dairy, he met people who had a recipe for cottage cheese, and he joined them in a venture in Pasadena, California

, to produce cottage cheese. His role was to do the books. While there, he lived with an aunt, probably his mother's sister, Elizabeth and her husband Jonathan A.
Schureman
, who lived there at the time.
28
While records do not record him ever working for a dairy, the general thrust of the account is no doubt true. The California adventure seems most likely to have happened in 1933, when William is listed without an employer in Peoria, and the family is listed at 108 Sherwood Ave.

rather that the home they owned on Elmwood, where they lived before and after that year. Further, the aunt he presumably lived with in Pasadena died in Nov 1934.
53
     His wife Marie, and two unmarried daughters, Carmen and Jessie, drove from Peoria to Pasadena to join him. Along the way they visited the John Wiests (William's sister and brother-in-law) in Phoenix, where they had moved from Illinois. Carmen returned to Peoria to her job, while Marie and Jessie remained until the cheese business failed, when William, Marie, and Jessie all drove back to Peoria.
28,54
The Move to Chico
--- Text Stolen from ReigelRidge.com !! ---
     According to family lore, upon their return, William sold their home in Peoria, and shortly after moved with Marie to Chico, California

. Records indicate that it was actually several years later, but they did apparently move in 1938 or 1939. Daughter Carmen is the only one listed in the family home in Peoria in 1939.
28,54,55
     William, his brother-in-law
John
and John's brother
Henry
all moved their families to Chico, to open an International Harvester dealership there. According to family lore, John knew of an opening there, likely because of his work with the company in Phoenix. The business, called North Valley Tractor and Equipment Company, opened at 820 Broadway,

probably very late in 1938. It does not appear in the 1939 city directory, which was apparently prepared late in the prior year, but does in the 1940 edition. Further, each of them reported working 52 weeks in 1939.
56,28,54
John was president and headed the sales force, Henry was vice president, and William was secretary and acted as bookkeeper.
57,58,59,60
     William and
Marie
appeared on the 1940 Federal Census of Chico, Butte Co., California, at 1321 Oleander

, enumerated 4 Apr 1940, reporting they owned a home valued at $4,600.
61
     By 1945 the business had moved to new quarters at 2450 Park Ave.

, and John and Henry's brother
Jack
had joined the business as a salesman.
62
William's brother
Charles
worked at the business as a parts man for a time about 1950.
63
     William continued to work at North Valley Tractor until about 1950, when heart trouble forced him to retire. Difficulties with a tax audit brought him back to work briefly. Anxieties over this and growing tensions with John's management of the business, leading to it's closing by 1953, were seen by his family as the cause of additional heart problems that lead to his death in 1954, causing a permanent rift between the families.
37,64
Living in Chico
--- Text Stolen from ReigelRidge.com !! ---
     When they moved to Chico they bought a new home at 1321 Oleander

in a then newly developing area on the north edge of town. It was a trim two-bedroom stucco house in what was probably then considered a modern style, with hip roof, little overhang, and casement windows. It had an "H" plan, with pantry, kitchen and dining room in one leg, bedrooms and bath in the other, and the living room connecting the two. Nestled in the rear was a screened porch. Built before the advent of air conditioning, the house nevertheless always seemed comfortable even in the hot summer days in the Northern Sacramento Valley. Probably part of the reason was that the living room was always dark because the drapes were always drawn. There was a detached two-car garage and a shady yard that was always bordered by flower gardens.
37,65
     He was an avid gardener, intensively tending the lawn, flowerbeds, and usually a small vegetable patch. The neighborhood dogs that left their calling cards on the front lawn, creating spots of dead grass, were a particular vexation to him.
37
     His second passion was woodworking. He built a woodworking shop in the garage, cleverly tucking machines and supplies around the building to maximize use of available space. Among the first of his power tools was an early Shop Smith multi-function tool (bench saw, lathe, band saw, disk sander, drill press, and more). He was fond of building toys for his grandchildren. The birth of his granddaughter, Judy, offered particular opportunities for building, including a dollhouse, a child-sized tea table and chairs, and a china cabinet.
37
     They had one of the first television sets in Chico, requiring a steel tower in the back yard for the antenna to pick up stations in Sacramento until Chico finally got it's own station some years later. At Christmas time a near perfect tree was placed next to the TV. No doubt part of the perfection was "Grandpa's" habit of relocating branches to fill in holes in the tree's natural structure, and cutting and splicing the Christmas light strings to ensure there were enough bulbs in all the right places. The pre-war glass ornaments, which could no longer be bought after the war, added to the special memories of these trees.
37
     He seemed to enjoy his grandchildren (Carmen and her family lived nearby, six miles outside of Chico, while Flossie lived on Long Island, New York, and Jessie in Placentia, an hour's drive south of Los Angeles). He and Marie would drive (actually, she usually drove the Studebaker) out to Carmen's house in the evenings to "see the sunset" and visit. Or they would have one of the grandchildren "in town" for a few days at their house. During these visits, "Grandpa" would take his young visitor for a walk around nearby blocks, exploring whatever was new. A house under construction was certain to need exploration. Short in stature, and always a bit stocky, he created a model of the archetypical grandfather which served his grandsons decades later when they had a chance to serve in that role.
37
     William died on 18 Mar 1954 in Chico, Butte Co., California

, at age 71.
11,17,18
He was buried on 20 Mar 1954 in Chico Cemetery, Chico, California

, in the "Old Masonic Section" (but not the oldest Masonic section.)
19
William and Stella have long been thought to have had only three daughters. However, the evidence of the 1910 census is compelling. It shows two young girls in the household, Corrinne E. and Carrie, both identified as daughters of William. Stella is shown as the mother of two children both living. Corrinne has to be Carmen, apparently known then as Corrinne, after her father's sister. The two other known daughters of William and Stella, Flossie and Jessie, are known to have been born in 1911 and 1918, so neither could be the Carrie listed in the 1910 census. Efforts to locate birth or death records for Carrie in Illinois have been unsuccessful.
31