Charles Elmer Arthur Glabe1,2,3
ID# 300, (1898 - 1974)
Narrative:
     Charles Elmer Arthur
Glabe
was born on 3 Jan 1898 in Peoria, Peoria Co., Illinois

.
10,11,12
     He appeared on the 1900 Federal Census of Peoria Twp., Peoria Co., Illinois,

in the household of his parents,
Jacob

Glabe
and
Emma Amelia

Goller
.
6
He appeared on the 1910 Federal Census of Peoria, Peoria Co., Illinois

, in the household of his parents.
5
He moved to Chicago about 1913 with his parents.
17
     Charles enlisted in the U. S. Navy on 20 May 1918 and was sent to the training center at Great Lakes, Illinois

.
18,19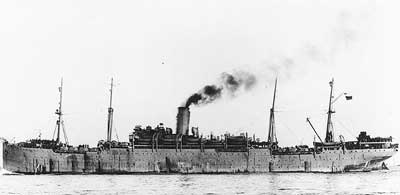 After his training he was stationed as a seaman on the
U.S.S. Antigone
, a transport ship ferrying troops to France and bringing injured troops home. In a letter he wrote to a pen pal on 18 Aug 1918 after returning from one of those trips he described it in detail. He said his was one of about 15 transports leaving New York, carrying about 60,000 troops in total. Five destroyers and a battleship departed with them. The seamen stood four-hour watches as lookouts, and when not on watch stood by the lifeboats to be ready to lower them if needed. On two occasions submarines were sighted and fired upon by the escort vessels. The last two days, as they neared France, the escorts were increased to a total of 15 destroyers, five seaplanes, and two dirigibles.
20
     For the return trip about 500 wounded soldiers were boarded. They were part of a convoy for the first two days, then the ships were separated in a storm. Near Greenland one of the engines on his ship failed so they had to limp home on one engine. It remained stormy, and the seamen "almost froze" when they were on watch, especially when a big wave would come over the top and soak them. He said most of the sailors got seasick; he didn't get "real sick" but "sick enough to suit me."
20
     The
U.S.S. Antigone
was originally a German ship, launched as the
Neckar
in 1900, seeing service carrying immigrants to the United States. Her owners sought sanctuary for her in Baltimore when war broke out in 1914. She was seized by the U. S. after war was declared on Germany in Apr 1917 and turned over to the Navy. After conversion as a troop transport she was re-commissioned 5 Sep 1917 under her new name. She was 518 feet in length, capable of 14 knots, and mounted four five-inch guns and two machine guns.
21
19,22
     Charles appeared on the 1920 Federal Census of 11045 Esmond St., Chicago, Cook Co., Illinois

, in the household of his parents, reporting his occupation as a salesman at a stockyard.
4
     Charles married
Hilda

Sjoerdsma
, daughter of
George

Sjoerdsma
and
Annie

Mosselma
, in Chicago, Cook Co., Illinois

, apparently on 3 Apr 1923, although a second record exists showing the date as 18 Jan 1922.
13,10
     Charles and
Hilda
and their two daughters, Patricia and Judith, moved to Arizona

in 1934.
23
Charles and
Hilda
appeared on the 1940 Federal Census of Lake Bluff, Maricopa Co., Arizona

, enumerated 18 Apr 1940, reporting that they rented their home, for $24 per month, and that they had lived in the same town in 1935. Their three children were listed as living with them.
24
     He worked in the citrus groves around the Phoenix area.
25
He was working as a yardman for the Boswell Co. in 1940, reporting that he had worked 56 hours the last week of March. He reported he had worked 48 weeks the prior year, earning $1,200 in 1940.
24
     Charles and
Hilda
moved to Chico, California

, for a time around 1950. While in Chico, he worked as a parts man for North Valley Tractor and Equipment Co., the dealership owned by his brother,
William
, their brother-in-law
John Roger

Wiest
, and his brother
Henry
.
26
But by 1947 they had returned to Phoenix, and were living in N. 32nd St.
27
He was head gardener at Rancho de las Caballeros for 10 years before his retirement.
28
     Charles died on 30 Jun 1974 in Wickenburg, Maricopa Co., Arizona

, at age 76.
14,15
He was buried in Wickenburg Cemetery, Wickenburg, Maricopa Co., Arizona

.
16
Their third child is still living.