Matthew Lyddall Bacon1,2,3
ID# 1861, (1834 - 1898)
Narrative: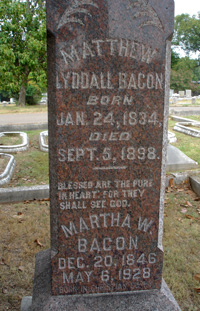 Martha and Lyddall Bacon inscriptions on Bacon family monument, Elmwood Cemetery, Memphis
Matthew Lyddall
Bacon
was born on 24 Jan 1834 in Kentucky

.
6,7,8
He appeared on the 1850 Federal Census of Trigg Co., Kentucky

, in the household of his father,
Charles A.

Bacon
, and Margaritte
Gibson
, his stepmother.
15
     Matthew appeared on the 1860 Federal Census of Hopkinsville, Christian Co., Kentucky

, enumerated 3 Aug 1860, reporting personal estate of $2,500. He was listed in the household of H. E. Bacon, and his wife, M. E. Bacon. Judging by his age, 35, and the fact that he was born in Virginia, is seems likely that H. E. Bacon was an uncle or other relative of Matthew. Also in the household was George L. Bacon, age 22 and born in Virginia, likely cousin, and James A Pendleton, age 57, a tailor.
16
Drawn to Memphis by Martha's Sister
--- Text Stolen from ReigelRidge.com !! ---
     Matthew and
Martha
had been engaged to marry before she had accompanied her sister to Memphis. They had not expected to marry until she became of age, but
Sarah
was anxious to have someone to manage her business affairs, and urged them to marry and live with her. He was then in business in Evansville, Indiana

, and was not anxious to move to Memphis, and neither of them "desired to live south." Nevertheless, after Martha had been living in Memphis from Jan to Oct 1865, in what she later described as "a life of much sacrifice and loneliness, as we were cut off from both the city and neighbors by military lines established near the gate," they did marry and agreed to live with Sarah.
17
     Matthew married
Martha Washington

Tuck
, daughter of
Dr. Davis Green

Tuck
and
Elizabeth M.

Toot
, on 5 Oct 1865 in Shelby Co., Tennessee

, at the home of her eldest sister Sarah, with Rev. I. O. Steadman officiating.
9,10,11
     Matthew and
Martha
appeared on the 1870 Federal Census of Memphis, Shelby Co., Tennessee

, in the household of her sister
Sarah
.
18
He appeared with his wife,
Martha
, and daughter,
Elizabeth
, on the 1880 Federal Census of Shelby Co., Tennessee

, in the household of
Sarah
.
19
It appears that Matthew and
Martha
lived with her sister Sarah until about 1883, when they apparently built their own home on the property next door that Martha had obtained from her.
20
An Able Business Man
--- Text Stolen from ReigelRidge.com !! ---
     Matthew reported his occupation as a merchant in the 1860 census in Hopkinsville, Kentucky

. No details about his business there, or his reported business in Evansville have been found.
21
The earliest record found of his occupation in Memphis is in 1869, when he was a bookkeeper for Russell, Grove & Co., operators of the Gayoso planning mill and lumber yard at 212 Adams. The following year he was listed as a clerk a the Post Office, though his occupation listed in the 1870 census was bookkeeper.
22,23
     No further record of his occupation has been found until 1878, when he joined W. B. Waldran and F. W. Royster in a real estate brokers under the name of Royster, Waldran & Bacon.
24,25
A newspaper advertisement that year described the firm's business as:
Memphis & Mississippi Valley
Land Agency
and General
Real Estate Office
No. 280 Main Street
     For the sale, purchase, lease or exchange of Cotton Farms, Unimproved Cotton Lands, Sugar Plantations and Sugar Lands, Tobacco, Grain, Grass and Timber Lands, in the States of Mississippi, Louisiana, Texas, Arkansas, Tennessee, and Alabama.
     Land business, in all its branches, promptly attended to. Memphis city and suburban property will be made a specialty. Shelby county and West Tennessee lands, embracing those adapted to planting, grain and grass-growing, grazing and fruit-growing, will receive special attention.
26
     Matthew left that firm about 1880 and established his own real estate and rental agency, at 5 Madison, Memphis. He continued that business at the same address until his death.
27,24,28
     On 6 Apr 1870 Matthew purchased a store house on Front St., or Mississippi Row, in Memphis, from the estate of his brother-in-law,
Quintus C.

Atkinson
, for $20,000.
29
Matthew was described in an 1887 book as
...the trusted proxy of land and property owners; his bulletin boards, etc., are the best evidence of the amount of business he is continually transacting. Mr. Bacon buys, sells, rents and take charge of real estate, and that he does it in a very credible manner need not be said, that being a foregone conclusion; and, by permission, he refers to the Bank of Commerce, Union and Planters' Bank, German Bank, Manhattan Savings Bank and Trust Company, (all institutions of the soundest financial standing) and the business men of Memphis, in general. This is a sufficient guarantee of the fair, honorable and equitable dealing and liberal business policy which governs the transactions of this wide-awake exponent of the real estate profession...
30
     On 13 May 1883 Matthew bought the six remaining small lots behind the home of his late sister-in-law,
Sarah Elizabeth

Tuck
, from her executors and the bishops of the Methodist Episcopal Church, to whom she had bequeathed them. He transferred all but one of them 10 Jun 1885 to the purchaser of the lot with Sarah's main house.
31
     Matthew died on 5 Sep 1898 in Hopkinsville, Christian Co., Kentucky

, at age 64.
12,6,13
He was buried on 7 Sep 1898 in Elmwood Cemetery, Memphis, Tennessee

, with his wife in their lot in the Miller Circle section.
14,1