Col. Stephen Pearl1,2
ID# 9523, (1749 - 1816)
Father
Nathan

Pearl

3,4
Mother
Elizabeth

Utley

3,5
Narrative:
     Col. Stephen
Pearl
was born on 28 Apr 1749 in Windham, Connecticut Colony

.
6,7,8
     Stephen married first Electa
Woodbridge
, daughter of Timothy
Woodbridge
and Abigail
[

surname unknown

]
, on 5 Nov 1773 in Stockbridge, Massachusetts Colony

, with Rev. Stephen West officiating.
9,10
     Stephen was a captain in Col. Benjamin Ruggles Woodbridge's Regiment in the 17 Jun 1775 Battle of Bunker's Hill at the opening of the Revolutionary War. He served as Adjutant in Col. Joseph Vose's 1st Massachusetts Regiment, enlisting 1 Jan 1777 and discharged 8 Mar 1778.
20,21,22
     Stephen served in the militia after his move to Vermont. He was a captain under Maj. Smith's command, serving eight days in May and Jun 1779 with the men of Manchester assisting the sheriff in Cumberland Co.
23
He served for six days with the militia when it was called to assist the sheriff in Windham Co. in Sep 1782, then a Lt. Col. His brother-in-law,
John

Cobb
, served as quartermaster in that expedition.
24
A Proprietor in Land Grants
--- Text Stolen from ReigelRidge.com !! ---
     The newly formed state of Vermont continued the practice established by the colonial governors of New Hampshire of granting parcels of land to groups of "proprietors" to form towns. Stephen became a proprietor of seven towns, though it seems clear that in many cases his interest was speculation rather than establishing residence there. His first grant was for the town of Fair Haven, on 27 Oct 1779, by
Gov. Thomas

Chittenden
. He was named as one of 76 "associates of Capt. Ebenezer Allen" who paid £6,930 for the grant. Proprietors were required to cultivate 10 acres of land and build a house at least 18 feet square, or have one family settled on each share, within four years after the "circumstances of the present war...will admit of a settlement with safety." As with the royal grants, pine timber suitable for mast and spars for the Navy were reserved to the state.
25
Stephen was one of 363 associates of Ethan Allen and Samuel Herrick receiving a grant the same day of some 23,000 acres on Grand Isle and Long Island in Lake Champlain, initially called Two Heros. It was later divided, part becoming South Hero, where he lived for a period a decade later. Proprietors were allowed one year after the end of the war to settle on the property in this grant, but there was no reservation of pines for the navy, and no payment is mentioned.
26
     On 2 Jan 1792 Stephen was one of 62 associates of Rev. Jonathan Edwards, William Samuel Johnson, and Charles Chauncey granted the town of Johnson, now in Lamoille Co.
27
On 9 Nov 1780 Stephen was one of 69 associates of David Brida granted the town of Starksborough, now in Addison Co., for the "encouragement of their laudable designs, & for other valuable considerations." They were to cultivate five acres and build a house, or have a family settled on each share with three years when permitted by the war, and pine timber was reserved. The same day he was one of 64 associates of Col. Benjamin Simonds granted the town of Lincoln, now in the same county, on the same terms except they were allowed four years for settlement.
28
     His wife died on 13 Jan 1781 in Bennington, Vermont

.
29,30
     On 16 Aug 1781 Stephen was one of 63 associates of William Lyman and Col. Ebenezer Wood granted the town of Woodbury, now in Washington Co., under similar terms. He was one of 64 associates of Timothy and Daniel Brown granted the town of Brownington, now in Orleans Co. on 26 Feb 1782.
31
     The towns were empowered to assess taxes against the proprietors, and if unpaid the rights of proprietors could be sold at public auction. Lists of delinquent proprietors whose property was subject to sale appeared in the newspapers frequently. Stephen's name appeared many of these lists. For example, he appeared on a published list of 37 delinquent proprietors of Fair Haven in Sep 1784, owing in £1 5s 11p each, and a list of 306 names from Two Heros in Jan 1785, each owing 30s. He appeared on a list of 39 delinquent proprietors of Starksborough in Mar 1788, each owing 16s, and a list of 54 from Woodbury in Jul of that year, each owing 14s.
32,33,34,35
No record has been found showing whether he eventually paid the levies or his rights were sold, but he continued to appear on such lists for some years. In Aug 1805 he appeared on a list of 65 delinquent proprietors of Woodbury, each owing $2.60 and costs, and in Feb 1808 he appeared on a list of 66 delinquent proprietors of Brownington Gore, also known as Morgan, each owing $2 and costs.
36,37
Moving to Pawlet
--- Text Stolen from ReigelRidge.com !! ---
     Stephen moved to Pawlet, Vermont

, by 1782, and kept a store in the south part of town, but failed as a merchant. He also kept an inn there.
38,39,40
He married second
Abigail

Cobb
, daughter of
Gideon

Cobb
and
Abigail

Dyer
.
11,12,13
     The proprietors of Lincoln met at Stephen's house in Pawlet on the second Tuesday in Jan 1784. That meeting was adjourned and they met there again the second Tuesday of Jun 1784. In the meantime, proprietors who had not paid a tax of £1 8s, which included Stephen, were advised that their shares would be sold to pay the taxes at a sale to be held at his house on 24 Jun.
41,42,43
     Stephen served as a selectman in Pawlet in 1787.
44
Moving to Chittenden Co.
--- Text Stolen from ReigelRidge.com !! ---
     Stephen and
Abigail
moved to South Hero, then part of Chittenden Co., before 1788.
45,46
He elected moderator and a selectman in South Hero on 10 Mar 1789.
47
Stephen appeared on the 1790 Federal Census of South Hero, Chittenden Co., Vermont

, (which was enumerated 4 Apr 1791, after Vermont became a state in Mar 1791), with a household consisting of two males over 16 (himself and one unknown) and three females (wife
Abigail

Cobb
and two unknown.)
1
     Stephen was made sheriff of Chittenden Co. in 1790, which seems to have been the reason for his move to Burlington shortly thereafter. He continued in that office for many years.
48
He was one of three men appointed to "set out a stake for the center of the town of St. Albans on 12 Jun 1792.
49
     Stephen and
Abigail
moved to Burlington about 1794, where they occupied a spacious mansion on what was later named Pearl St., built by Frederick Saxton in 1789.
50
He appeared on the 1800 Federal Census of Burlington, Chittenden Co., Vermont

, with a household consisting of one male age 10 to 16 and one age 16 to 26 (both unknown), one over 45 (himself), one female 10 to 16 and one age 16 to 26 (both unknown), one age 26 to 45 (wife
Abigail
), and one over 45 (unknown.)
51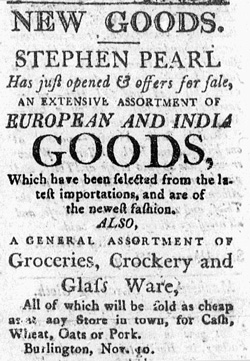 Advertisement for Stephen Pearl's Store
Nov 1808
52
     Stephen quickly became active in the community. In 1795 he was voted one of a committee of four to "hand round subscriptions for the Court house." Later that year he was one of a committee of five to appropriate the money raised. He became a justice of the peace by 1798, serving until he was too infirm to attend his duties. He was named collector for the town that year, and one of a committee of three to examine old surveys, make new ones, and settle certain land disputes. He was elected a selectman in Burlington in 1797, 1798, 1804 through 1808, and 1811. He was elected as a representative to the General Assembly in 1805. As the War of 1812 approached, he was chosen as a member of a committee to draw up resolutions, adopted unanimously, stating the town's opposition to the embargo that had been adopted by Congress in 1795.
53,54
     Stephen appeared on the 1810 Federal Census of Burlington, Chittenden Co., Vermont

, with a household consisting of two males age 10 to 16 and one age 16 to 26 (all unknown), one 26 to 45 (likely his nephew,
Gideon Cobb

Lathrop
), three over 45 (himself and two unknown), one female age 10 to 16 and one age 16 to 26 (both unknown), and one over 45 (wife,
Abigail
.)
55
He was known for his hospitality, with his house "aways the home of the friendless." Apparently some of the unknown persons in the cenus were long-term guests.
56
     He was a large farmer, and apparently successful at that endeavor. But he attempted store-keeping again, and was unsuccessful. The effort lasted about three years, which was said to be long enough to use up about half his property. In Sep 1808 he posted advertisements advising those owing him money that their "notes, accounts, etc." would be turned over to an attorney for collection on 5 Oct. In a second notice in Dec he requested payment by 15 Jan to "prevent the necessity of a more expensive and disagreeable notice." Similar notices appeared in Dec 1810, requesting payment by 15 Jan. The large number of uncollected accounts listed in his probate file suggests these efforts were largely unsuccessful.
56,57,58,59
He closed the store by May 1810.
60
A Family Feud Becomes Public
--- Text Stolen from ReigelRidge.com !! ---
     Stephen became involved in nasty dispute with his wife's nephews,
Stephen Pearl
and
Gideon Cobb

Lathrop
, that became very public in Aug 1811. It appears that on 9 Jun 1809 the uncle gave a parcel of land in Burlington to the younger Stephen, in exchange for a bond that he would live with his uncle and manage his business affairs for the life of the uncle and his wife. According to the brothers' account, in Jul 1810 (two months before Stephen's marriage), Stephen asked Gideon to take his place in the arrangement. Gideon agreed, and by his account the aunt and uncle did as well, and he then moved in with them while Stephen moved to the property Gideon had agreed to convey to him. Further, he said, the uncle gave him Stephen's bond to take to one George Robinson, Esq., to have a new bond drawn up for Gideon to execute as a replacement. But the new bond did not appear, and the old one was returned to the uncle.
61
     Evidently the uncle had a change of heart, after Gideon refused to join the Washington Benevolent Society, Gideon later said. On 14 Aug 1811 the uncle circulated a statement to members of the community contending that he had never authorized Gideon to take the bond and replace it with one of his own. Rather, he said, Gideon asked to see the bond and read it, and was supposed to return it. In response to his uncle's "injury to my reputation" Gideon had affidavits by him and his brother, telling their version of the story, along with his uncle's statement, published in the local newspaper on 22 Aug 1811.
62
     The matter was evidently not peacefully resolved. After the uncle's death,
Gideon
won a judgment before the Vermont Supreme Court directing the executrix of the estate to pay him $560 plus interest for the return of the land the elder Stephen had deeded, "subject to certain agreements," to the younger Stephen, who had deeded them to Gideon. The parcel was said to be worth more than that, and other land was sold to raise the money.
63
     Apparently a second transaction was also involved in the dispute. On the same date as the above transaction, the elder Stephen sold the younger Stephen two parcels for $2,000. They were one-fourth of lot no. 28 in Burlington, where the Pearl's house and barn were located, and one-fourth of lot no. 22, a 100-acre lot. On 2 Mar 1811, just before the exchange of published accounts, young Stephen deeded these lands to his brother Gideon. But apparently the actual boundaries of the two parcels had not been defined, and the parties were unable to agree on them. Gideon petitioned the Court to set of his portion of the two lots at its Jan 1812 term, and commissioners were appointed to divide the two lots at the Jan 1813 term. But the case was continued several times, until after Col. Stephen's death, when his widow and administrix became involved, and the commissioners' report was finally approved in the Dec 1819 term.
64
Administering His Estate
--- Text Stolen from ReigelRidge.com !! ---
     Stephen left a will dated 9 Sep 1815 in Burlington, in which he directed that his funeral be conducted "without unnecessary parade," and provided the inscription for his tombstone, to include only his name and date and place of his birth and death. He declared himself a believer in Christianity, "whatever opinions the world may have formed with respect to me or my life or conduct." He left his wearing appeal to his brother Timothy, and all his personal property, after paying his debts, and all his real estate, to his wife and her heirs. He appointed Horace Loomis and his wife as executors.
65
     Stephen died on 21 Apr 1816 in Burlington, Vermont

, at age 66.
14,15,16
He was buried in Elmwood Cemetery, Burlington, Vermont

.
17,18,19
     His will was proved on 19 Dec 1816 in Burlington at the probate court for the District of Chittenden.
66
On 1 Feb 1817
Abigail
declined her inheritance under the will and requested her dower rights instead, presumably because it had been determined that her share remaining after payment of debts would be less than she was entitled to under her dower rights. On the same date she and the other named executor declined to serve and asked that an administrator be appointed.
67
     The two petitions were apparently accepted. Abigail did later receive her dower, and on 22 Feb 1817 she posted a bond before the court in Williston for $5,000 to act as administrix. The significance of her acting as administrix and not as executrix is unclear. On 18 Mar 1817 she posted a new bond for $10,000. She represented that the estate was insolvent, and the same day Soloman Miller, Luther Loomis, and Ebenezer Englisby were appointed as commissioners to examine the claims of creditors. Also that day Luther Loomis, Horace Loomis, and John Pomeroy were appointed to inventory the estate.
68
     The appraisers submitted their report on 1 Jul 1817, showing a total value of $9704. It listed farm stock and equipment valued at $670, including a horse, four cows, 22 sheep, and three swine, several vehicles including a coach and harness valued at $325, and various tools, many described as "old." Personal property consisting of kitchen and household goods, furniture, and wearing apparel totaled $620. There were three shares in a turnpike and a share in a bridge, valued at $350. Thirty-two parcels of real estate were listed, some as large as 100 acres, for a total of $8,064. The most valuable was 26 acres with all the buildings, at $3,333.
69
     On 24 Nov 1817
Abigail
filed a petition with the court asking that a committee be appointed to set off her dower. Four days later the judge approved a list of items set off to her totaling $1,035 in value, including all the livestock, two waggons and other farming tools, a large number of household and kitchen items, furniture including three good beds and four old beds and bedding, books, and Stephen's clothing.
70
     On 6 Jan 1818 Daniel Hurlbut petitioned the court stating that he had various claims against the estate arising from joint real estate transactions he and Stephen had engaged in, and that he had not been able to file them with the commissioners within the six months allowed. The court authorized the extension of their time by another three months.
71
The commissioners issued their report on 18 May 1818, listing nearly 100 claims. In twelve cases, including that of Daniel Hurlbut, they found nothing due. In another twelve cases they found the claimed creditor actually owed the estate, in total $339. The majority of claims were allowed, at least in part, for a total due of $4,196.
72
     On 21 Jul 1818 the administrix filed a list of amounts due the estate. Fifteen accounts on Stephen's books, totaling $878, were identified as potentially collectable. Nearly 150 accounts, totaling over $2,500 were listed against "individuals who have either died or runaway, or the accounts are outlawed" (barred by the statute of limitations). Eleven notes are listed, totaling $572. About 75 more, with amounts ranging from 76¢ to $450 and totaling $1,725, were regarded as worthless or nearly so. Fifteen judgments were listed, some as old as 1809, totaling $644.
72
Abigail
again petitioned the court regarding her dower rights on 27 Feb 1819, this time asking for her share of the real estate. A committee, consisting of John Pomroy, Archibald W. Hyde, and Phinias Lyman, was appointed by the court on 2 Mar 1819 to appraise all the real estate owned by the estate and set of one third of it to the widow. The committee reported its findings on 22 Mar which were accepted by the court 10 Apr 1819. She received "for her natural life" the 25 acres and buildings where she and Stephen had lived, a second parcel of 10 acres, and a third of 16 2/3 acres. The committee valued the entire estate at $8,064.20 and the part set off to the widow at $2,688.06.
73
     On 18 Mar 1819 the administrix petitioned the court to appoint a committee to set of real estate to creditors, since there was not enough personal property to pay the debts. The court ordered on 1 Jun 1819 that creditors be notified that they could claim real estate at the appraised valued in settlement of their claims. However, on 25 Jun she filed a petition to set aside that order because she had been notified that the U. S. Attorney planned to file suit against the estate for an amount larger than the debts in question. Stephen had signed, with others, as surety a bond for $7,000 for Joseph E. Merritt as Assistant District Paymaster to the Army in "the late war," and the U.S. was now trying to collect from the sureties. The delay was accepted by the court on 6 Jul 1819.
74
Abigail
petitioned the court in another matter in 1820, stating that she had received judgment in Jul 1818 in the county court in a suit started by Stephen before his death, against Levi Grannis. She had been awarded $67.64 plus $12.60 costs. However she had been able to collect only an old horse worth $45 before Grannis had died, leaving no property. She had only one horse to manage the farm left by Stephen, which was now nearly worn out, so asked that the horse received from the suit be set over to her. Her request was granted 7 Oct 1820.
75
     On 19 Apr 1822 Stephen's brother Timothy filed an $8,000 bond, having been appointed administrator de bonis non (administrator of goods not administered) since Abigail had died without completing the administration of the estate. George Moore, administrator of Abigail's estate, filed an accounting of her work on Stephen's estate on 30 Jan 1823. It reflected disbursements of $2,592. composed of a number of small items, mainly taxes paid, the payment to Gideon Lathrop and setting off of personal property to the widow, $325 paid to the U. S. in settlement of its claim, and the sale of the turnpike shares. Assets listed included the personal property inventoried, $283 collected on the notes, and the sale of property to pay of Gideon Lathrop's claim.
76
     On 20 Sep 1823 Timothy filed a petition with the court for permission to sell real estate in order to meet the expenses of the estate, as there wa no personal property remaining to pay its debts. This is the last document in the probate file, so no further information is known about the disposition of the estate.
77
Children:
     There were no children with Electa
Woodbridge