Francis Patten Gracey1,2,3
ID# 487, (1834 - 1895)
Narrative: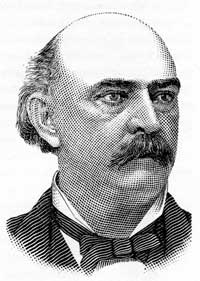 Frank P. Gracey
from Picturesque Clarksville17
He was almost universally known in his adult life as Capt. Frank Patton Gracey.
3,18,19
Francis Patten
Gracey
was born on 30 Jun 1834 in Eddyville, Caldwell Co., Kentucky

.
8,9,10,11
     He was probably one of the two males age 5 to10 listed in the household of his father,
Mathew Lyon

Gracey
, in the 1840 Federal Census of Caldwell Co., Kentucky

.
20
     Frank was became a clerk in Hickman, Kentucky in 1850. In 1852 he took the position of clerk on the steamer
America
, a boat operating between Nashville and New Orleans. He was connected to steamboating in various capacities until the time of his marriage.
7
     He appeared on the 1850 Federal Census of District No. 1, Caldwell Co., Kentucky

, in the household of his father,
Mathew Lyon

Gracey
.
21,22
     Francis married
Irene

Cobb
, daughter of
Dr. Joshua

Cobb
and
Julia Ann

Mims
, on 10 Nov 1857 in Clarksville, Montgomery Co., Tennessee

, with Rev. A. Mizell officiating.
12,13,14
     After their marriage, Francis and
Irene

Cobb
settled in Eddyville where he carried on his mercantile and tobacco business, which he continued until he joined the Confederate service.
17
They appeared on the 1860 Federal Census of Eddyville, Lyon Co., Kentucky

, enumerated 11 Aug 1860, reporting real estate of $600 and personal estate of $895. Their son
Julien
was listed as living with them, as well as his sister and brother, Ellen and Matthew, and three laborers, one from Ireland and two from Scotland, who appear to have been employees.
23
Distinguished Military Service
--- Text Stolen from ReigelRidge.com !! ---
     Frank enlisted as a 2nd Lt. in Company F, Third Kentucky Infantry, on 16 Jul 1861, at Camp Boone, Tennessee

, because the neutrality of Kentucky forbade the formation of military units in the state. The unit was soon ordered to Bowling Green, Kentucky, where Company F was detailed to take charge of light artillery. He was commissioned as an officer in the 1st Kentucky Light Artillery, Capt. H. B. Lyon's unit, 16 Jul, and promoted to 1st Lt. 30 Sep. When Capt. Lyon was promoted later that year, his wife's cousin,
Maj. Robert H.

Cobb
assumed command. After he was promoted to Major in Apr 1864 Frank was promoted to Captain and became commander of the battery, which continued to be generally known as Cobb's Battery.
24,25,26
     On 15 Nov 1861, while he was stationed in Bowling Green, Kentucky, he obtained leave for two days to go to Clarksville to visit his family there and "make permanent arrangement for their future comfort and protection."
27
Cobb's Battery took part in all the heavy battles of the Western army. Frank was slightly wounded in several engagements, and seriously wounded at Kennesaw Mountain, Georgia. That battle took place from 19 Jun through 2 Jul 1864, with over 67,000 soldiers killed, wounded, or captured.
28,29,30
     The Battery returned to the Tennessee River where Captain Gracey's most notable exploit occurred. On 29 Oct 1864 the Federal steamboat
Mazeppa
, on her maiden voyage and towing a barge, both heavily loaded with "a valuable cargo of quartermaster's and subsistence stores," was making its way from Cincinnati to Johnsonville, Tennessee. Artillery fire disabled the boat, which then went aground on the shore opposite the Confederate positions. No boat being available, Capt. Gracey, using a small log for a float, swam across the river alone and captured the disabled boat. He managed to get it across the river, were it was burned after the cargo was landed.
31,32
     Frank was recommended for promotion to Colonel of Cavalry in Feb 1865 by Gen. Lyon, citing his service "as an Artillery officer in all the great battle in Tennessee Miss and Georgia and as a Cavalry Officer has served with General Forrest in Middle Tennessee and two raids into Kentucky."
33
He was part of the Western army when it was surrendered at Paris, Tennessee

on 14 May 1865.
34,35
Settling in Clarksville
--- Text Stolen from ReigelRidge.com !! ---
     Local lore tells us that after the War Capt. Gracey was prohibited by the terms of his parole after surrender from going north of the Tennessee line (or north of the Ohio River by another account) without special permit of the Secretary of War, so he could not return to his businesses in Eddyville. But, while his parole has not been found, his signature, dated 22 May 1865 and showing his residence as Lyon Co., Kentucky

, appears on a "Roll of Prisoners of war, who Voluntarily surrendered themselves, took the Oath of Allegiance, and were allowed to return to their homes."
36,37,38
Irene
settled in Clarksville after the War.
39,40
     His brother Matthew joined him there and they established the firm of F. P. Gracey & Brother. In Feb 1866, they established a wharf-boat business on the Cumberland River at the foot of Marion St., the first and for many years only one in Clarksville. Matt was in charge of the office and Capt. Frank the outside business. They dealt in coal, hay, corn, salt, and other products. Their business employed many wagons and drays, and in 1869 they organized the Clarksville Transportation Company, which enabled them to contract with the Louisville & Nashville Railroad to deliver freight being shipped to Clarksville. This ended the former practice requiring merchants to take delivery at the depot and arrange their own cartage. As many as 50 to 60 wagons and drays were used by the firm.
41,40,42
     Frank built the Gracey Warehouse, a large brick building, at the corner of Second and Commerce Sts., in 1878. It was later known as the Queen City Warehouse. He purchased the Grange Warehouse, claimed to be the largest warehouse in the world, in 1884. In 1890 he founded the Gracey-Woodard Iron Furnace on 75 acres in the city of Clarksville. He had interests in coal mining, The Clarksville Water Company, the Clarksville Gas Company, and a street railway.
43,39
He was President of the ambitiously named Indiana, Alabama & Texas Railroad when it's stock was acquired by the Louisville and Nashville Railroad in Aug 1888. The line, incorporated in 1882, had constructed its line only from Clarksville part way to Princeton, Kentucky when it was acquired.
44,45
     Frank and
Irene
appeared on the 1870 Federal Census of Clarksville, Montgomery Co., Tennessee

, enumerated 28 Jun 1870, reporting real estate of $10,000 and personal estate of $6,000. The household also included seven apparent boarders, all but one black, perhaps some as household help. Their son
Julien Frank
was listed as living with them, as was his brother, Matthew
Gracey
Jr.
46
     Frank and
Irene
appeared on the 1880 Federal Census of Clarksville, Montgomery Co., Tennessee

, enumerated 14 Jun 1880, with three black laborers, one male and two female. Their son
Julien
was listed as living with them.
47
     Francis died on 27 Apr 1895 in Clarksville, Montgomery Co., Tennessee

, at age 60.
15,16
He was buried in Greenwood Cemetery, Clarksville, Montgomery Co., Tennessee

, in his lot.
3