Ross Richard Reily Lober1,2
ID# 3893, (1930 - 2012)
Narrative:
     Ross Richard Reily
Lober
was born on 24 Oct 1930 in Cissna Park, Illinois

.
5,6,7
     He appeared on the 1940 Federal Census of Ash Grove Twp., Iroquois Co., Illinois,

in the household of his parents,
Samuel J.

Lober
and
Katherine Mary Elizabeth

Glabe
.
3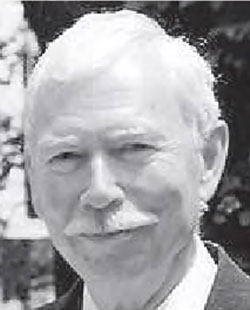 Ross Richard Riley Lober
from Chicago Tribune1
     Ross graduated from Gallager School of Business, Kankakee, Illinois

, then attended Northwestern University and the University of Chicago.
1
     He was employed by the International Harvester Company for 42 years. He served as an accountant, financial analyst, and systems analyst. He retired in 1993.
1
     Ross was in the U.S. Army from 1954 to 1856. He was stationed in Japan

and served as a high-speed radio and telegraph operator.
1
     Ross married a woman who is still living on 7 Sep 1991 in Fourth Presbyterian Church of Chicago

.
1
     Ross died on 8 Jan 2012 at age 81.
1
He was buried on 13 Feb 2012 in Graceland Cemetery, Chicago, Illinois

.
1
Children:
     Children with a woman who is still living:
Ross and his wife had no children.
1