Karen L. Rodack1,2,3
ID# 370, (1941 - 2015)
Father
John T.

Rodack

4 ( - 1961)
Mother
Violet E.

Strelow

4 (6 Jun 1917 - 10 Nov 2003)
Narrative:
     Karen L.
Rodack
was born on 24 Oct 1941.
5,6,7
     Karen and Thomas W.
Riesterer
, son of Elmer
Riesterer
and Agnes
[

surname unknown

]
, announced their engagement in Sep 1958, stating they intended to marry in June. No record of whether they actually were married has been found.
8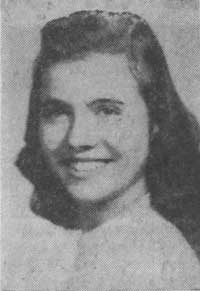 Karen Rodack Engagement Photo, 1958
from Chicago Tribune8
     She was an airline stewardess for a time.
15
     Karen married second
Kenneth Robert

Glabe
, son of
Robert Henry

Glabe
and
Ruth Fern

Shaffner
, on 26 Dec 1964 in Libertyville, Illinois

.
9,10
Kenneth
and Karen went out to dinner on the evening of 21 Jun 1971 to celebrate his upcoming 45th birthday. On the drive home she told him she felt ill and asked him to stop the car. When she got out, she told police, she encountered a man who shouted "What the hell are you doing here?" As she screamed for help to her husband, the man hit her and knocked her unconscious. A passing motorist found her by the roadside, and
Kenneth's
body was found nearby, dead of multiple stab wounds.
16
     Karen married third about 1977.
11
Convicted of Murder
--- Text Stolen from ReigelRidge.com !! ---
     Her second husband's murder remained unsolved until Apr 1979, when a former Arlington Heights, Illinois, police officer, Preston Scott
Haig
, was arrested in Roswell, New Mexico

, for assaulting his wife. She told police there of his possible involvement in the murder, and he later confessed to investigators from Illinois, saying that he killed Kenneth when he was startled while injecting himself with heroin.
17,18
     After his return to Illinois, the ex-officer admitted that he had been hired to do the murder by Karen and her new husband, supposedly for a large sum of money from the victim's life insurance settlement. All three of them were charged with murder on 28 Apr 1979.
19,20
Kenneth's daughter told the press that she thought it odd that police were tying the killing to her father's life insurance, as he had lost a lung to tuberculosis and was therefore a high risk for insurance, but did have a company policy, which was paid to his children. "If they were counting on that money they must have been surprised," she was quoted as saying.
21
The ex-officer pled guilty, with his sentence reduced by a plea bargain in which he agreed to testify against the couple charged with hiring him. He was sentenced 14 Sep 1979 to 14 to 28 years.
22
     Karen and her new husband were tried before a jury, with the trial starting 28 Apr 1980 at Circuit Court, Lake Co., Illinois

. An officer testified that when she had asked him at the hospital about the condition of her husband she was very startled when he told her he was well and would be brought to her shortly, but later showed no reaction when viewing his body at the morgue. Other testimony reported that the investigation began to focus on her on July 5. They were observed kissing, embracing, and holding hands on the Glabe's front lawn the day of her husband's funeral while she was wearing a bikini. He had moved into the Glabe home by early August.
23
     It was revealed that Karen received over $57,000 in life insurance, $34,000 in Social Security benefits, and $6,900 from the Veteran's Administration as a result of her husband's death.
24
     The ex-officer testified that the pair had agreed to pay him $5,000 for the murder because
Kenneth
refused to grant her a divorce, but they had actually paid only $600. He said the plan was for Kenneth and his wife to go to dinner at the Lake-Air Restaurant in Zion, and on the way home she would pretend to be sick and ask him to let her out of the car. She would run up a designated path where the killer was waiting in ambush. The defendants admitted in their testimony that they had an adulterous relationship in 1970, and that she had asked Kenneth for a divorce which he had refused. But they denied planning the murder. He admitted paying the $600, but said it was repayment of a loan. They were convicted by the jury on 6 May 1980, and were sentenced to 35 to 45 years on 2 July, with the judge rejecting their request to be released on bond pending appeal.
25,26
The prosecuting attorney denounced the sentence, pointing out that they would be eligible for parole in just over eleven years.
27
     The defendants appealed to the Illinois Appellate Court, which affirmed their conviction 2 Oct 1981.
25
They then appealed to the U. S. Court of Appeals, which affirmed the decision of the District Court on 18 Feb 1987.
28
Resuming Her Life
--- Text Stolen from ReigelRidge.com !! ---
     Karen and her new husband were apparently divorced, as after her release from prison she resumed used of her maiden name.
12
Karen moved to Tucson, Arizona

, by 2003.
4
     In 2010 Karen was a volunteer conductor for the Old Pueblo Historic Trolley system in Tucson, appearing in a number of articles and videos promoting the system.
     Karen died on 7 Jul 2015 in Tucson, Pima Co., Arizona

, at age 73.
13,14
Children:
     Children with Thomas W.
Riesterer

:

There were no known children of Thomas and Karen.
The two children of Kenneth and Karen wife are still living.
16
Children:
     Children with a man who is still living:
There were no known children of Karen and her third husband.