George Churchill Comstock1,2,3
ID# 262, (1911 - 1971)
Narrative:
     George Churchill
Comstock
was born on 3 May 1911 in Peoria, Illinois

.
9,10,11
He appeared on the 1920 Federal Census of Peoria, Peoria Co., Illinois,

in the household of his parents,
Clarence Elmer

Comstock
and
Lucia Gary

Driggs
.
5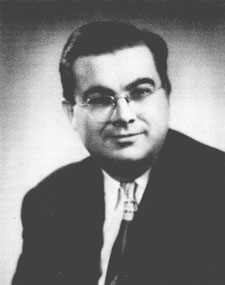 George C. Comstock
from IEEE Transactions16
He appeared on the 1930 Federal Census of Peoria, Peoria Co., Illinois

, in the household of his parents.
6
     George received a B.S. degree from Bradley Polytechnic Institute, Peoria, in 1932, now Bradley University. He was later recognized by the University by making him a member of the Centurion Society, established to recognize "alumni who have brought national and international credit to the University."
17,18
     George married
Florence Bernice

Glabe
, daughter of
William Frederick

Glabe
and
Estella Pearl

Watson
, on 18 Aug 1934 in Chicago, Cook Co., Illinois

.
9,12,13
     After their marriage, George and
Florence
lived in Chicago, Illinois

.
19
He received a Ph. D degree in physics from University of Chicago in 1938.
20
     After he received his doctorate degree George,
Florence
and their young son Ronald moved to Charleston, South Carolina

, where he was an assistant professor of physics at the Citadel until 1942.
21,22
George and
Florence
appeared on the 1940 Federal Census of Charleston, Charleston Co., South Carolina

, at the Citadel, enumerated 10 Apr 1940, reporting they rented their home for $35 per month. Their son Ronald was listed as living with them.
23
     George joined the staff of the Radiation Laboratory at Massachusetts Institute of Technology in 1942, and they moved to 15 Garrison Rd., Belmont, Massachusetts

. He was engaged in the early development of radars and instrument landing systems. In 1943 he was in charge of the electronics engineering for the original Ground Controlled Approach radar. Subsequently, he served in Europe as the project Leader for the GCA group.
20,24,25
It was likely this role that found him on a Pan American Airways flight from Foynes, Eire to New York, arriving 19 Sep 1943 after an overnight flight. He was identified on the passenger records as a "government official."
26
Family lore that described his war-time work as so secret that he slept with his brief case under his pillow may have been only slightly exaggerated.
27
     After the war George and
Florence
and their two sons moved to Oyster Bay, New York

, on Long Island.
28
     In 1946 George joined Airborne Instruments Laboratory, a newly formed company that had grown out of the war-time organization of the same name formed at Columbia University. He was initally an assistant supervising engineer of the Air Navigation and Traffic Control Section, and became supervising engineer of the Operational Development Section in 1950. He was named vice president in 1960. The company was acquired by Cutler-Hammer, and in 1969 become known as AIL, a division of Cutler-Hammer.
20,29
     He served on many Department of Defense research and development committees and working groups. He was a member of the Weapons Systems Evaluation Group on special defense studies, of the Air Defense Panel of the Presidential Scientific Advisory Committee, and in 1961 he served on the Project Beacon Task Force on Air Traffic Control for the Administrator of the FAA and the President.
20
     George died on 16 Nov 1971 in Glen Cove, New York

, at age 60.
14,15
Their other children are still living.