Why Get the Originals?
This page created 12 Nov 2000
You Found What you Wanted on the Internet
Why Bother to Get the Original?
This case made a believer of me. See why.
I was looking through the Oregon State Archives web site, and was delighted to find that not only did the City of Portland start recording births earlier that the rest of the state, but these records are in the state archives and there is an on-line index. So I searched for my grandmother, and found the following:
I knew from other sources that the date was correct, so it was her! A great find! But what about her parents' nativity -- I thought they were both immigrants. I then contacted the Archives, and requested a copy. Here is what I received: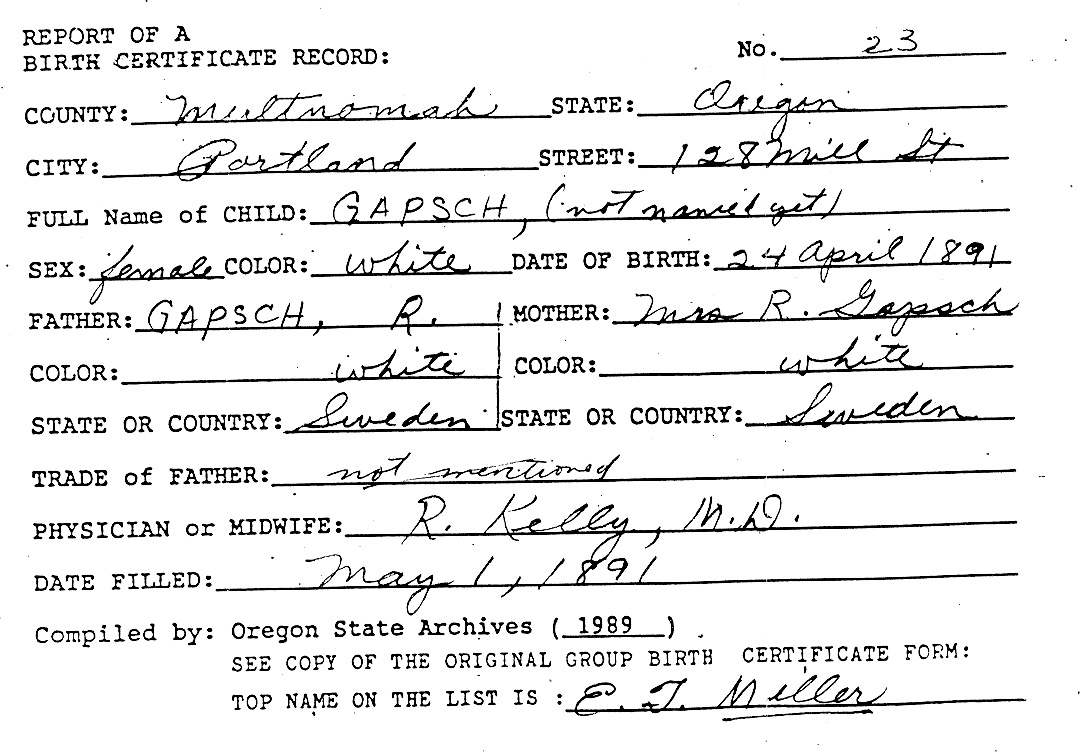 Note that it adds the street address. And it clearly show both parents born in Sweden! And, note that this document was "compiled" in 1989!
More communication with the archives disclosed that early Portland birth records were submitted on sheets with several births on each sheet. The Archive filed each alphabetically, under the name of the first entry. Volunteers had copied the information for the other entries to forms like the one I had received so those records could be filed in the correct alphabetic order.
So, I asked for a copy of the original record, and received this:

On the original, only one parent is named, "R. Gapsch," and it is not at all clear that the Swedish nativity was intended to apply to both parents. (To add to the confusion, other sources indicate that the father, Robert Gapsch, was born in Germany, and the mother was born in the Swedish-speaking section of Finland!)
So, I conclude, the Internet proved to be a great aid in locating a useful record, but, like everywhere else in genealogy, always go for the original record when possible.
Copyright 2000- by Terry Reigel